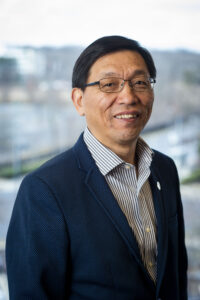 Dr. Zhanqing Li, Professor at ESSIC and University of Maryland's Department of Atmospheric and Oceanic Science, recently joined the editorial board of Atmospheric Chemistry and Physics, a not-for-profit international scientific journal dedicated to the publication and public discussion of high-quality studies investigating the Earth's atmosphere and the underlying chemical and physical processes.
Li accepted this invitation after stepping down as an editor of the Journal of Geophysical Research: Atmospheres (JGR: Atmospheres). Since joining JGR: Atmospheres in 2013, he has handled over 1,500 manuscripts.
Both Atmospheric Chemistry and Physics and JGR: Atmospheres are the world-leading journals in atmospheric sciences with impact factors of 5.6 and 3.8 and are the primary journals of the American Geophysical Union and European Geophysical Union, respectively.
Li is a professor at AOSC and ESSIC at University of Maryland. He has engaged in a wide range of studies concerning climate change, atmospheric physics, terrestrial and atmospheric environment and has over 300 peer-reviewed publications.