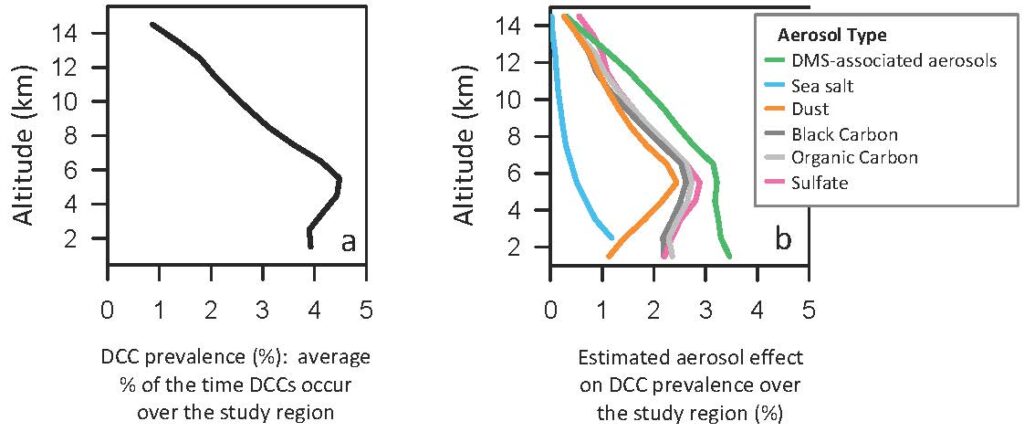 Lauren Zamora, ESSIC Assistant Research Scientist and a contractor in the Climate and Radiation Laboratory at NASA Goddard Space Flight Center, has a new article out in Journal of Climate titled, "Saharan dust aerosols change deep convective cloud prevalence, possibly by inhibiting marine new particle formation".
Deep convective clouds (DCCs) are important to global climate, atmospheric chemistry, and precipitation. Dust, a dominant aerosol type over the tropical North Atlantic, could have large microphysical impacts on DCCs in this region. However, dust effects are difficult to identify. In this study, the researchers develop a statistical technique in which satellite data and reanalysis products are used to separate aerosol effects on clouds from typical meteorological co-variability.
The technique shows that once meteorological co-variability is taken into account, aerosols substantially increase the prevalence of DCCs over the North Atlantic. However, dust aerosols may scrub the atmosphere of the ocean-emitted precursors to cloud active aerosol particles, thus dampening marine aerosol effects.
Lauren Zamora is an Assistant Research Scientist with ESSIC, working on-site at NASA Goddard Space Flight Center. She joined ESSIC in 2017. Her research focuses on aerosol-cloud interactions and marine biogeochemistry.
To access the article, click here: "Saharan Dust Aerosols Change Deep Convective Cloud Prevalence, Possibly by Inhibiting Marine New Particle Formation".