New yoga group meets at ESSIC
By: Wynne Anderson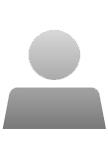 Don't be surprised if you see a group of people walking in to a third floor wing at ESSIC with rolled up mats and donning exercise clothes.  They're the ESSIC Tuesday yoga group, led by Hui Xu and a tape recording that talks them through their poses.
Employees at the NOAA World Weather Building in Camp Springs, MD have been running a similar class for nine years, and will move in to a new M Square building later this summer. Even though the move means classes in a neighboring building starting this summer, employees at ESSIC wanted classes sooner.
Just four weeks ago Xu's colleague Haun Meng began pushing for a class where employees wouldn't have to leave their building, and the Tuesday yoga class was born.
Huan listed Xu as the point of contact for those interested in yoga, and before she knew it Xu became the unofficial teacher.
"This is only the fourth week but hopefully other people will learn postures and can do it without me," Xu said. "It's the same routine lasting for an hour and it's not really very hard poses so if I'm not here I e-mail and say take my cassette and do it."
Xu stresses the ideas that it's not the difficulty of the poses that is important, but the stretching and long-term health benefits.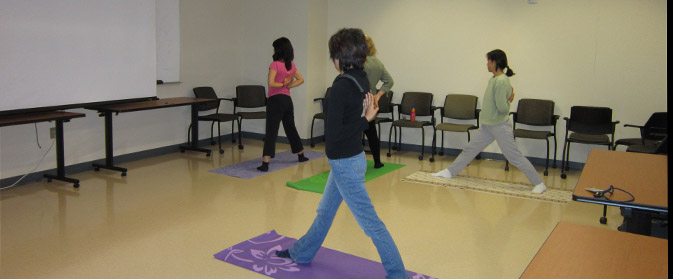 The class streches in a pose during a Tuesday morning yoga session.
"I hadn't done it for a few months since I moved in to the building so I felt it in my muscles the first few times, but now my muscles are more in tune."
After just a few classes, Yuling Liu agrees.
"I feel that I'm more flexible," she said. "I can reach my toes now, that's big progress for me!"
The yoga group meets once a week, usually on Tuesdays, from 11 a.m. – 12 p.m. in room 3002 of the ESSIC building. The participants say they enjoy convenience of meeting directly in the building without having to worry about driving to the gym on campus.
"You sit at your desk all day long and don't exercise," said Nai-Yu Wang, a participant who has a membership to the campus recreation center as well. "For me I can only go to the gym and take aerobics after four, and in the winter the sun sets so early that by five o'clock it feels like you should go home."
Xu also says the class is low impact and mostly Pilates based, so people of all skill levels can participate.
"Anybody of any age should be ready to come because you do what you can do and if you can't you just stretch instead, no one is going to look or care if you can't do it," said class regular Rosalie Jones. "I think everyone that comes goes back to work after and feels that they really have relaxed."