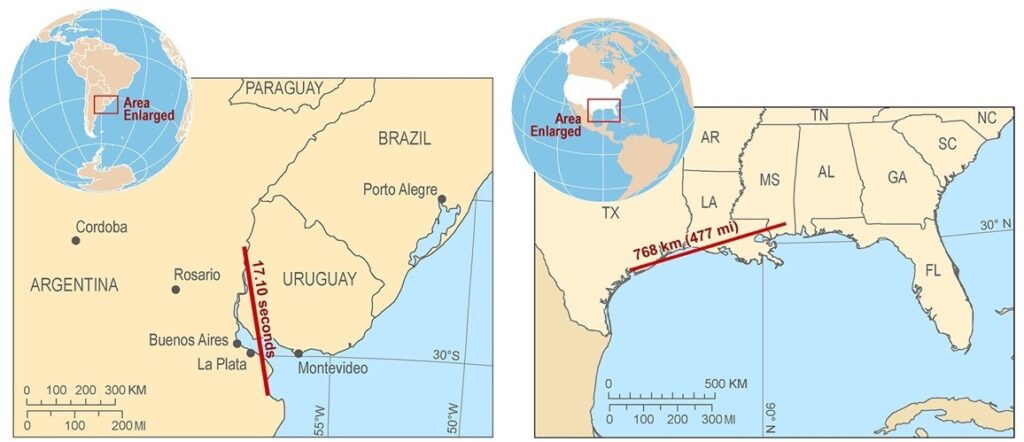 The World Meteorological Organization (WMO) announced two new world records for megaflashes of lightning in notorious hot spots in North and South America:
The longest single flash that covered a horizontal distance of 477.2 ± 5 miles (768 ± 8 kilometers) across parts of the southern United States on April 29, 2020. This is equivalent to the distance between New York City and Columbus, Ohio.
The greatest duration for a single lightning flash of 17.102 ±002 seconds from the flash that developed continuously through a thunderstorm over Uruguay and northern Argentina on June 18, 2020.
"Mother nature is amazing and it's exciting that we have new technology to observe, appreciate and respect it. These new records demonstrate technology advancements in satellite remote sensing, and meteorology and climate, in general. These observations give us the confidence that efforts to launch new satellite sensors paid off," said Daile Zhang, a postdoctoral associate in the University of Maryland's Earth System Science Interdisciplinary Center who serves on the WMO's Committee on Weather and Climate Extremes, which recognized the records and maintains official records of global, hemispheric and regional extremes.
Aided by the latest satellite technology, the new record for the longest detected megaflash distance is 37 miles more than the previous record from 2018. Both used the same maximum great circle distance methodology to measure flash extent. The new longest duration megaflash is 0.37 seconds longer than the previous record from 2019. The findings were published in the Bulletin of the American Meteorological Society.
"These are extraordinary records from single lightning flash events. Environmental extremes are living measurements of the power of nature, as well as scientific progress in being able to make such assessments. It is likely that even greater extremes still exist, and that we will be able to observe them as lightning detection technology improves," said Randall Cerveny, President's Professor of geographical sciences at Arizona State University and rapporteur of Weather and Climate Extremes for WMO.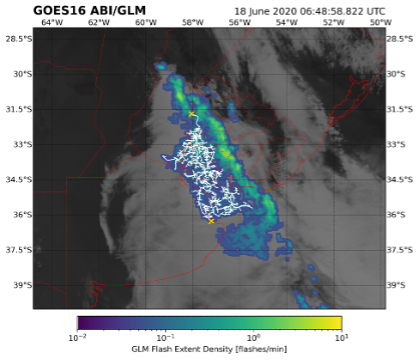 Zhang has served on the WMO's Committee on Weather and Climate Extremes since March 2021. After getting the initial reports on the new megaflashes, she checked satellite- and ground-based lightning network data associated with these flashes to validate the raw data and verify that the flashes matched well between the different networks.
"I also checked to confirm that there were no sensor issues or other problems with the satellite technology and that it was not affected by any solar artifacts during the observation periods," Zhang recalled. "Then, we verified that the data were indeed from individual flashes, instead of multiple nearby flashes."
The new record strikes occurred in hot spots for Mesoscale Convective System (MCS) thunderstorms, whose dynamics permit extraordinary megaflashes to occur—namely, the Great Plains in North America and the La Plata basin in South America.
"The observation of megaflashes provides reinforcement of lightning safety concerns," Zhang said. "Long and large flashes do occur. Some of these flashes are called 'bolt from the blue,' which originate from a parent thunderstorm a few tens of kilometers—or even more—away and travel to a distance where no thunderstorm is seen overhead. These flashes are dangerous and could be life-threatening."
Space-based technology
The previous assessments that established the flash duration and extent records used data collected by ground-based Lightning Mapping Array (LMA) networks. Many lightning scientists acknowledged that there are upper limits for the scale of lightning that could be observed by any existing LMA. Identifying megaflashes beyond these extremes would require a lightning mapping technology with a larger observation domain.
Recent advances in space-based lightning mapping offer the ability to measure flash extent and duration continuously over broad geospatial domains. These new instruments include the Geostationary Lightning Mappers (GLMs) on the R-series Geostationary Operational Environmental Satellites (GOES-16 and 17) that recorded the new lighting records.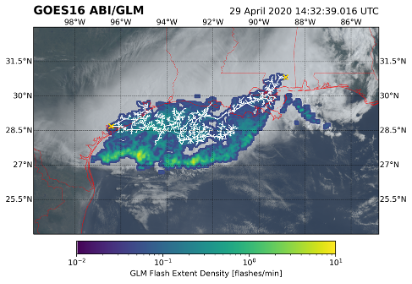 "Before we had the GLMs, the definition of a lightning flash by the American Meteorological Society was, 'The series of electrical processes taking place within one second.' Because we have observed lightning that lasted longer than one second, the American Meteorological Society changed the definition to 'The series of electrical processes taking place continuously,'" Zhang said. "Although most lightning flashes last less than a second, we have observed and verified with the GLM observations that longer duration and large flashes exist."
The new orbiting instruments also include Europe's Meteosat Third Generation (MTG) Lightning Imager and China's FY-4 Lightning Mapping Imager. All of these space-based instruments will provide near-global coverage of total lightning (both intracloud flashes and cloud-to-ground flashes).
"Once all of the satellites are in orbit, we will be able to have real-time geostationary lightning mapping covering most of the Earth and have a better understanding of lightning and thunderstorm activity and climatology," added Zhang, who also serves on the GLM science team working to validate the technology and develop new applications for it.
###
This article was adapted from text provided by the World Meteorological Organization.
Media Relations Contacts: (UMD) Abby Robinson, 301-405-5845, abbyr@umd.edu; (WMO) Clare Nullis, cnullis@wmo.int, +41 79 709 13 97 (cell)