---
Weaver's Temperature Trends Site Brings Climate Change to the Local Level
By Mark Baith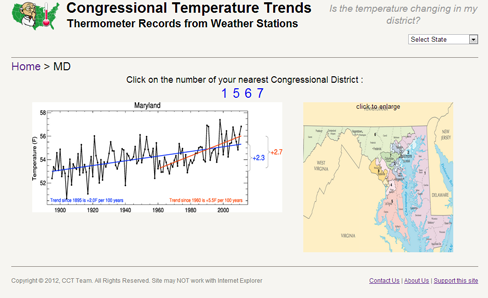 In researcher Clark Weaver's eyes, climate change information has been entirely focused on global increases, while disregarding regional and state trends.
With the help of Eugene Cordero, a meteorology professor at San Jose state, Weaver, an associate research scientist at ESSIC, created his self-funded site temperaturetrends.org, which focuses exclusively on temperature trends at local levels. Site visitors can see the actual temperature records from each of the 1200 weather stations across the US and then compare them with global average temperatures.
"I created the site to bring climate change down to the local and district levels, because that's a song that staffers and members will listen to," Weaver said. Weaver noted that often times, people and politicians alike might think of global warming as just a story reported in the news. His site helps to demonstrate to visitors, that climate change is likely occurring within their own backyards as well.
Weaver pays regular monthly visits to Capitol Hill to provide Environment and Energy Legislative Assistants the temperature trends for their state or district. He also make himself available to answers general questions regarding climate science. Most are very receptive Weaver reports.
Weaver stated that the concept for a local or regional database of temperature records occurred while gathering data for a meeting.
"I had the idea several years ago when I was preparing for meeting with a district in New Hampshire," Weaver says. "The night before I plotted up temperature trends from several weather stations in New Hampshire and surrounding states. All the trends looked about the same," said Weaver. "Boston had the longest temporal record, so at the meeting I showed that trend."
Weaver noted that while presenting at the meeting, a participant asked him if any temperature data existed for other districts. "Not being familiar with New Hampshire geography or the location of the line that separates the two districts, I guessed and showed him the record from Manchester," said Weaver. "When I found one from Concord, a big smile appeared (on the participant's face)." Weaver knew he found an 'interest niche' and a larger idea was born.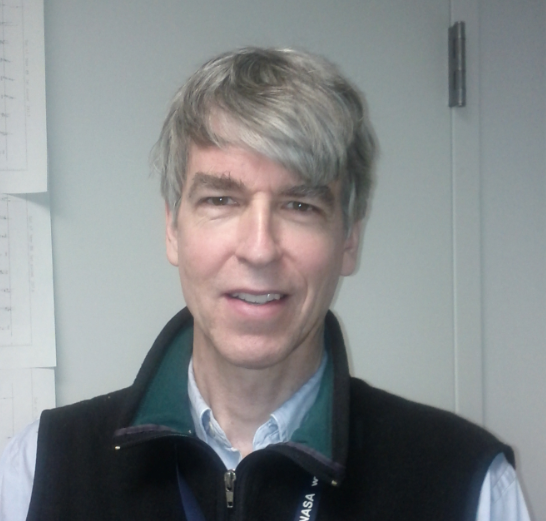 According to Weaver's website, the state of Maryland has increased one additional degree Fahrenheit beyond the global temperature trend since the 1960's. The site allows users to choose their state and district on a U.S map, analyze the initial data, then compare that information to global land and oceanic trends.
Weaver, who supports "ASCENDS" (an instrument to measure CO2 from space using laser technology) at NASA/GSFC's Atmospheric Chemistry and Dynamics Branch, would also like to implement two additional components for his "trends" web-site. One would involve sea level trends for the coastal states and districts, while another would provide an analysis of extreme temperatures.