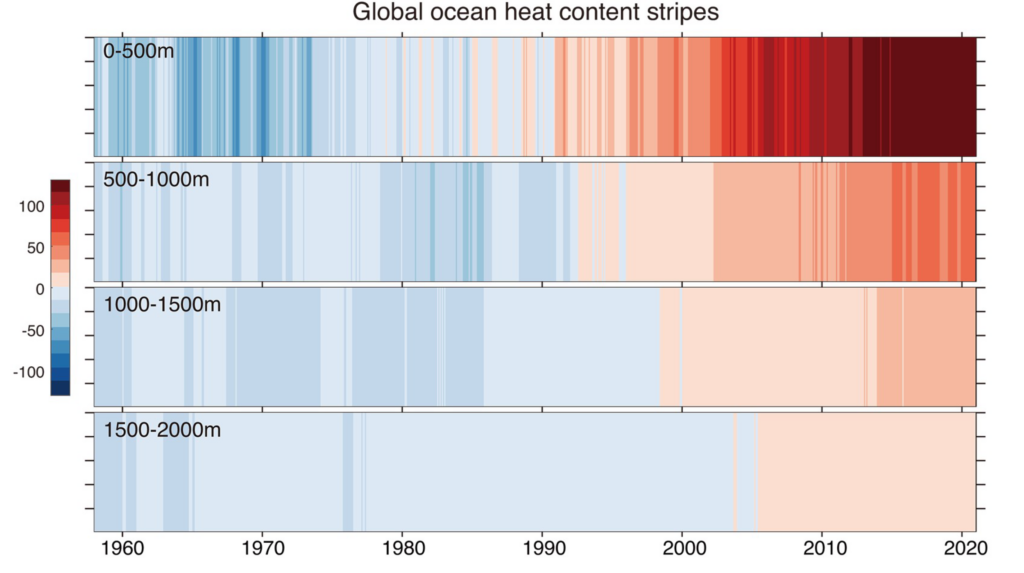 CISESS Scientists Alexey Mishonov and Jim Reagan are co-authors on a new article titled "Upper Ocean Temperatures Hit Record High in 2020" published in the April 2021 issue of Advances in Atmospheric Science.
The study used all available observations from various measurement devices held in the World Ocean Database of NOAA/NCEI to calculate ocean temperature and salinity anomalies in the upper 2000m layer. The most recent data indicates that the Ocean Heat Content (OHC) in the upper 2000m layer of the world's oceans has increased with a mean rate of 5.7 ± 1.0 ZJ yr−1 for the 1958−2020 period. The figure compares that heat increase with those at lower ocean levels.
There was a more rapid increase in OHC that began in the 1980s and has continued unabated since then. From 1986 to 2020, the trend in OHC is 9.1 ± 0.3 ZJ yr−1, almost eight times larger than the trend from 1958 to 1985 (1.2 ± 0.6 ZJ yr−1), while the estimates of uncertainty have decreased as instruments and sampling improved.  The OHC value for 2020 is higher than the value for 2019, by 20 ± 8.3 ZJ using the IAP estimate, and by 1 ± 3.5 ZJ using the NCEI estimate. Both are the highest on record.
Mishonov is a researcher with extensive experience in various fields of oceanography, including ocean color, water transmissivity and particulate organic carbon study, oceanographic data management, analysis, and climate research.
Reagan is affiliated with NOAA and the National Centers for Environmental Information (NCEI) where his current research focuses on attaining a better understanding of salinity/freshwater variability in the global ocean, which could shed new light on the hydrological cycle.
To access the article, click here: "Upper Ocean Temperatures Hit Record High in 2020".