ESSIC/CISESS Post-doctoral Associate Daile Zhang has written an article on the legacy of lightning and thunder gods in Chinese history that is featured in this month's issue of Weatherwise.
In the article, she reviews various lightning and thunder gods in ancient Chinese literature. One god Zhang discusses is Fuxi, said to be the "original human", the inventor of fishing, hunting, farming, and the Chinese writing characters, as well as an early lightning god. Fuxi most often appeared with his sister and wife Nüwa, the human creator. Both of them were said to have a snake body and a human head, and their bodies were intertwined. Zhang connects the twisting snake-shaped bodies of Fuxi and Nüwa to the zigzag shape of lightning bolts, stating that when ancient people saw lightning in the sky and similarly shaped snakes on the ground, there is a chance that they related and deified them.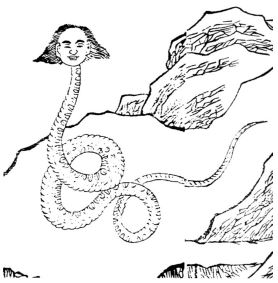 "With the advances in science and technology, along with improved lightning protection facilities and education, lightning is no more a threatening personified deity but rather a mere natural phenomenon." concluded Zhang.
Zhang's work at ESSIC focuses on evaluating and assessing space-based lightning sensors such as the GLM. She is a part of the ESSIC/CISESS Geostationary Lightning Team team, which also includes Scott Rudlosky, Guangyang Fang, and Joseph Patton.
Access the feature here: "The Legacy of the Chinese Lightning and Thunder Gods".