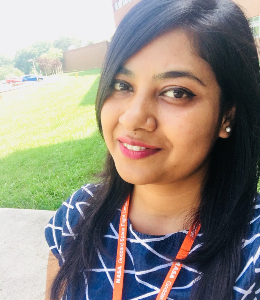 ESSIC Research Scientist Sampa Das has been selected as a recipient of the 2023 Robert H. Goddard Honor Award, NASA's Center-level award selected annually by an awards committee based on the nominations from the peers. Das received an award under the category of "Excellence in Science". She is one of the 9 individuals selected for 2023 across the Sciences and Exploration Directorate.
Sampa Das is an ESSIC/UMD research scientist at the NASA GSFC Atmospheric Chemistry and Dynamics Laboratory (code 614). She obtained her Ph.D. in Atmospheric Sciences from Purdue University in 2018. Following her Ph.D., she joined GSFC as a NASA Postdoctoral Fellow and then ESSIC in May 2021 as an Assistant Research Scientist. Her research interests lie in Global Aerosol Modeling, Aerosol-Cloud-Radiation Interactions, and Pyrocumulonimbus (PyroCb) Modeling. She utilizes her extensive experience in global aerosol modeling to diagnose and improve the representation of aerosol-related processes and properties in the NASA GEOS Earth System model using observations from a combination of satellites, aircraft, and ground-based instruments.
Congratulations, Sampa!