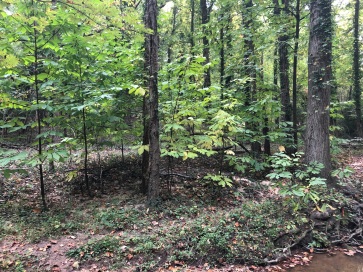 A ~15 acre wooded area at the southern edge of the University of Maryland campus has inspired a campus-wide discussion on affordable graduate housing and the public health benefits of urban forests.
Late last Spring, UMD announced plans to sell this parcel, known as Guilford Woods, to a developer in order to build the Western Gateway Project. The project promises private townhomes and graduate housing at the expense of clear-cutting the area, composed of over 1,000 mature trees and 28% of the remaining main campus forest cover.
While College Park badly needs affordable housing, the project opposition found that around three quarters of the project footprint would be for the construction of 81 private townhomes and associated infrastructure, and none of the graduate housing would be located on the land that would be sold. 
ESSIC scientist Ross Salawitch was a frontrunning faculty member in the opposition, participating in University Senate meetings and penning a guest column in The Diamondback about the scientific reasons to save the Woods. Salawitch also co-authored an opinion article in the Washington Post alongside 7 UMD faculty members including ESSIC Professor and Department of Geology Chair James Farquhar.
This culminated into a protest on Friday, October 15th when students, faculty, and staff mobilized on McKeldin Mall to raise their voices on the issue. This, along with the numerous petitions, led campus to pause planning on the Western Gateway project in late October, opting to instead focus on developing graduate housing through redevelopment of Old Leonardtown.
Though this shift is a relief for the project's opposition, Guilford Woods is still vulnerable. Efforts will continue to permanently protect Guilford Woods and retain its many benefits to campus and the surrounding community.