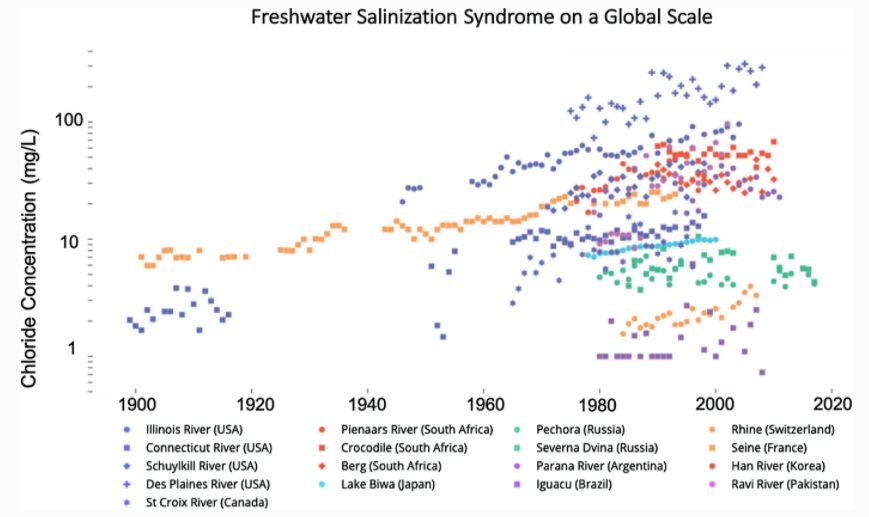 Sujay Kaushal, ESSIC and Department of Geology associate professor, is lead author on a new article out in Biogeochemistry titled "Freshwater salinization syndrome: from emerging global problem to managing risks".
Coined by Kaushal and his team in previous studies, Freshwater Salinization Syndrome refers to the cascading effects of added salts in an environment, including poison drinking water and negative effects on human health, agriculture, infrastructure, wildlife and the stability of ecosystems. This study is the first analysis of the complicated effects of Freshwater Salinization Syndrome and their impact on human health. 
This work suggests that the world's freshwater supplies could face serious threats at local, regional and global levels if a coordinated management and regulation approach is not applied to human sources of salt. The study calls on regulators to approach salts with the same level of concern as acid rain, loss of biodiversity and other high-profile environmental problems.
"Ultimately, we need regulation at the higher levels, and we're still lacking adequate protection of local jurisdictions and water supplies," Kaushal said in a press release. "We have made dramatic improvements to acid rain and air quality, and we're trying to address climate change this way. What we need here is a much better understanding of the complicated effects of added salts and regulations based on that. This can allow us to avert a really difficult future for freshwater supplies."
Kaushal's research focuses on long-term chemistry of fresh waters, effects of land use and climate on water quality, and managing and restoring freshwater ecosystems. His current projects investigate freshwater salinization syndrome, human-accelerated weathering, long-term chemistry of inland waters, river restoration, urban evolution of biogeochemical cycles, and applications of geochemical approaches in ecology.  More details regarding his research, teaching, and current CV can also be found at http://www.geol.umd.edu/faculty/KAUSHAL and www.kaushallab.com.
To access the article, click here: "Road salts and other human sources are threatening world's freshwater supplies".