Data management is an integral part of scientific research. It serves as a bridge between observations and subsequent research, paving the way for synthesis activities and actionable decision support. This is especially true for oceanographic research, where data from individual cruises often need to be compiled in order to understand regional and global processes.
Today, a team of researchers led by Earth System Science Interdisciplinary Center (ESSIC) Scientists Li-Qing Jiang and Alex Kozyr, debuted the Ocean Carbon and Acidification Data System (OCADS), which will serve as one of the world's leading providers of ocean carbon and acidification data, information, and products.
OCADS manages a wide range of ocean carbon and acidification data, including chemical, physical, and biological observations collected from research vessels, ships of opportunity, and uncrewed platforms, as well as laboratory experiment results, and model outputs. OCADS also serves as a repository for Global Ocean Observing System (GOOS) biogeochemistry Essential Ocean Variables (EOVs) that are closely related to ocean carbon and acidification research, e.g., oxygen, nutrients, transient tracers, and stable isotopes.
"OCADS will play a crucial role in advancing the understanding of regional and global ocean carbon cycling, ocean acidification, and marine carbon dioxide removal (mCDR)," said Jiang, "It will also be an indispensable component of Measurement, Reporting, and Verification (MRV) for carbon credit accounting in mCDR."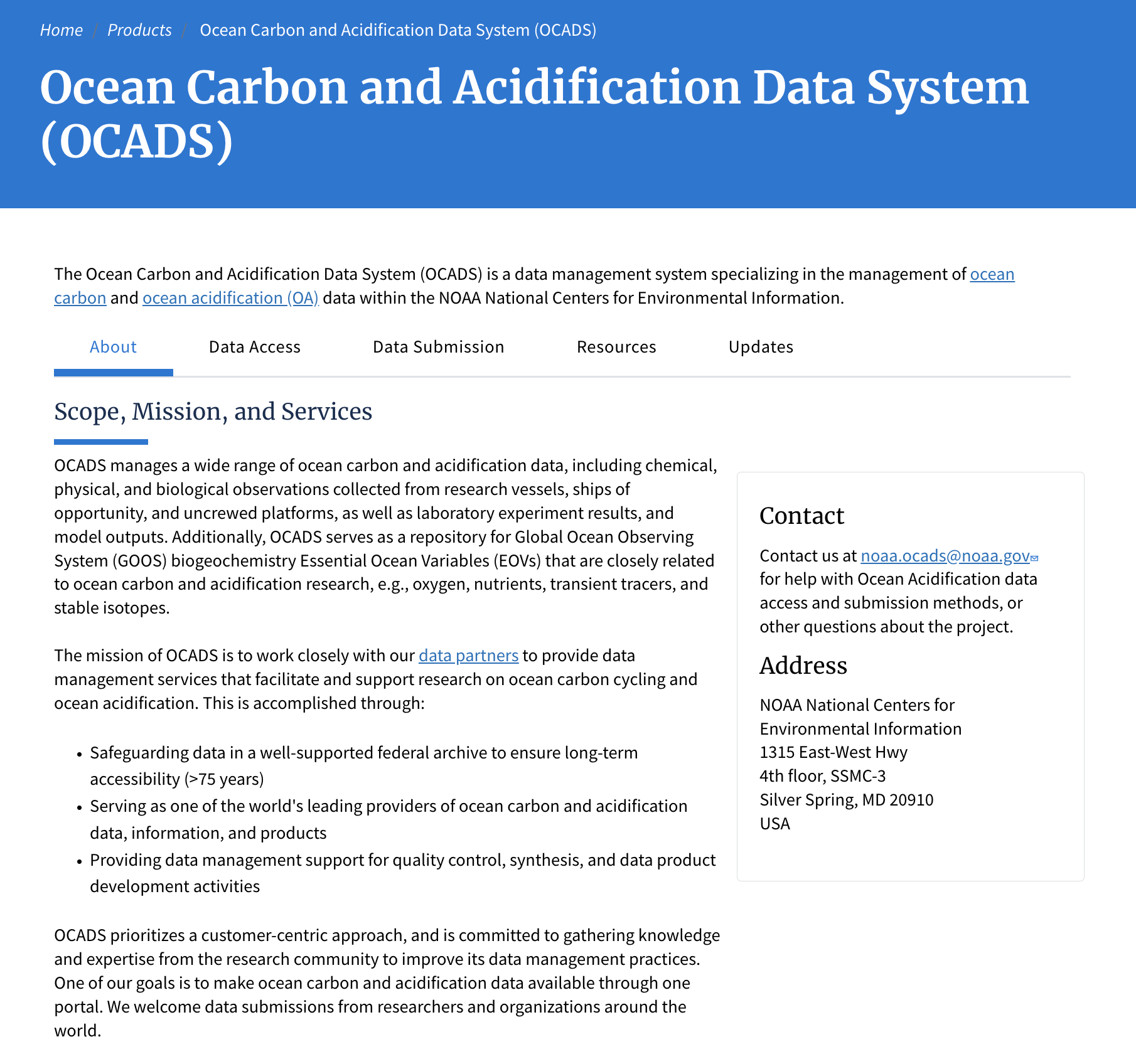 To provide the best data management services to the ocean carbon and acidification research community, OCADS adopts a customer-centric approach. The team prioritizes gathering feedback, knowledge, and expertise from the research community to build data management services tailored to the needs and preferences of the research community.
OCADS features a community-driven metadata template built using a bottom-up approach. It is the foundation of all tailored interfaces, including a digital submission interface called "the Scientific Data Information System (SDIS)", a metadata management and display interface called "the Rich Metadata Management System (RMMS)", and a user friendly data search and access interface, called the "Ocean Carbon and Acidification Data System Portal". 
"OCADS aims to make all ocean carbon and acidification data accessible via a single portal," said Jiang, "We welcome submissions from researchers around the world."
Jiang is a chemical oceanographer specializing in the study of inorganic carbon cycling and ocean acidification in coastal and global oceans. He received his Ph.D in Oceanography from the University of Georgia in 2009 and did his postdoctoral research at Yale University. Jiang has been working at NOAA's National Centers for Environmental Information (NCEI) since 2011. He is currently the lead principal investigator of the Ocean Carbon and Acidification Data System (OCADS) project, which is partially funded by NOAA's Ocean Acidification Program (OAP), and the Global Ocean Monitoring and Observing (GOMO) Program.