Aquarius, NASA's pioneering instrument to measure ocean surface salinity from orbit, celebrated its first birthday on June 10.
Aquarius is the first NASA instrument specifically designed to advance the understanding of what changes in the saltiness of the ocean's top layer mean for the water cycle and variations in climate. The instrument studies superficial ocean salinity from space at a rate of about 300,000 measurements per month, according to an article by NASA.
It uses three passive microwave sensors – called radiometers – to record the thermal signal from the oceans' top 0.4 inches (10.1 millimeters), according to NASA. This signal varies depending on the concentration of salt and the temperature of the waters.
Aquarius became operational on Aug. 25, 2011, and began measuring global salinity patterns. Shortly after, the missions' scientists created a map of global ocean saltiness using the first two and a half weeks of measurements, which had been compared against reference salinity data. The map showed variations in salinity patterns in much greater detail than Aquarius researchers had expected to see so early in the mission, according to NASA.
The instrument's measurements of global salinity patterns have also observed regional features, like the freshwater plume gushing from the Amazon River and localized changes in ocean saltiness following a tropical storm, according to NASA.
Aquarius Principal Investigator Gary Lagerloef, of Earth & Space Research in Seattle told NASA the objectives for Aquarius' second year in orbit include correcting a few remaining calibration errors and validating the Aquarius dataset with thousands of direct in-water measurements of salinity.
The Aquarius/Satélite de Aplicaciones Científicas (SAC)-D mission is an international collaboration of NASA and Argentina's space agency. The satellite also carries instruments from partner institutions in Canada, Italy and France.
Lagerloef told NASA once the members of the Aquarius team obtain a whole year of data from Aquarius, they will study the seasonal cycle of salinity variations, and how it relates to rainfall and ocean currents.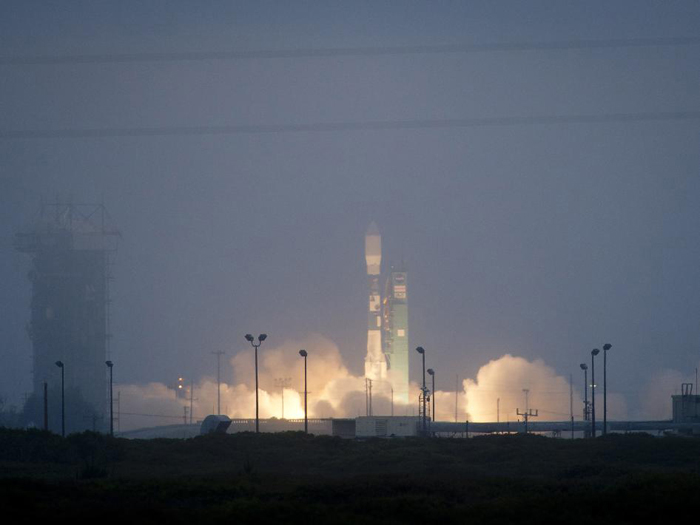 (Photo courtesy NASA/Bill Ingalls: A Delta II rocket carrying the international Aquarius/SAC-D observatory launches from Vandenberg Air Force Base in California, on June 10, 2011)
---
A new interactive feature on NASA's Global Climate Change website takes you 'under the hood' of NASA's salt-seeking Aquarius mission.
See recent global ocean salinity maps and movies produced from Aquarius data.
Learn more about the new study of tropical ocean waves produced using Aquarius data.