---
Dr. Fernando Miralles-Wilhelm
By Sarah Polus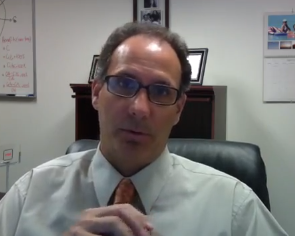 As a hydrologist and water resources engineer who has experience working within academia, international development agencies and the private sector, CICS Executive Director and Professor Fernando Miralles-Wilhelm, who began July 1, has developed an ability to view science with both a business and societal perspective.
Miralles-Wilhelm believes research needs to intersect with societal needs in order to find practical application of science, rather than approaching it just from a purely knowledge-seeking perspective. The paradigm of implementing that connection is what Miralles-Wilhelm believes will be his biggest challenge as CICS Executive Director.
Miralles-Wilhelm, who has a mechanical engineering diploma from Universidad Simón Bolívar in Venezuela, an MS in engineering from UC-Irvine, and a PhD in civil and environmental engineering from MIT, gained experience with the business aspect of scientific research while working on a portfolio of water resources project for the Inter-American Development Bank, both as a consultant for the private sector in the mid 1990s as well as more recently as a program manager. The organization's mission is to create financial development in a sustainable manner within the Latin American/Caribbean regions.
He has also studied hydrology internationally and worked with Engineers Without Borders primarily in Latin American countries such as Nicaragua and Costa Rica, which serves the needs of disadvantaged communities through engineering solutions.
Miralles-Wilhelm's primary scientific research focus is on hydrology and climate interactions, specifically pertaining to vegetative ecosystem issues in the Everglades, where he's worked for the past decade.
The Everglades, one of the world's most prominent wetlands, were drained for decades to make land available for building and developing what is today the major metropolitan area of Miami. As Principal Investigator of research projects funded by NASA and the National Science Foundation, Miralles-Wilhelm studied the impact of this practice. The projects demonstrated that vegetation in the Everglades actually acts as a natural buffer, protecting surrounding land from flooding, improving water quality and serving as a natural mechanism to attenuate the impacts of extreme weather and climate.
As an educator, Miralles-Wilhelm specializes in a hydrology and water resources engineering curricula. At Florida International University (FIU), he instructed various classes in the College of Engineering and Computing and the College of Arts and Sciences. He hopes to teach a course in sustainability modeling at Maryland, during the fall 2013 semester.
Of the many things he's looking forward to in his new capacity as CICS executive director, Miralles-Wilhelm said he's excited to investigate the depth of expertise at the institute and closely collaborate with experts at the University of Maryland, NOAA, and NASA.