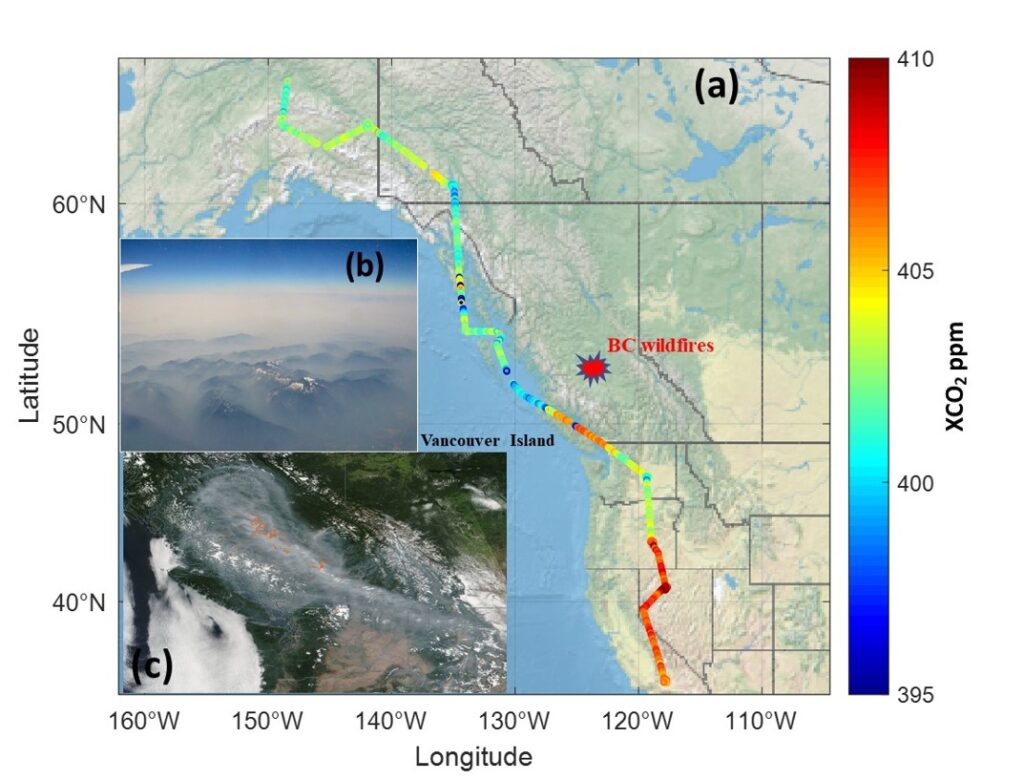 ESSC/CISESS Scientist Jianping Mao is first author on a new paper in Geophysical Research Letters titled "Measuring Atmospheric CO2 Enhancements From the 2017 British Columbia Wildfires Using a Lidar".
Wildfires are a major source of greenhouse gases. However, there are large uncertainties in the estimated CO2 emissions from wildfires in global emissions inventories. Smoke in the scene can degrade the estimates of column-averaged CO2 from satellite measurements using passive remote sensing techniques. Mao and his colleagues from NASA Goddard Space Flight Center have developed an integrated-path, differential absorption lidar approach to measure XCO2 from space. This new method allows accurate estimations even in the presence of dense smoke plumes. This is the first use of lidar to remotely sense CO2 enhancements from large wildfires. These types of lidar measurements can be used to validate estimates of CO2 emissions from wildfires and improve estimates of carbon fluxes.
Dr. Jianping Mao graduated from the University of Maryland at College Park. He is a mission-oriented research scientist for NASA's Earth Science Enterprise. Over the past two decades, he has been dedicating to developing remote sensing techniques to observe changes of atmospheric CO2 and CH4, the two most important anthropogenic greenhouse gases that have long been understood to exert a critical influence on Earth's climate. Meanwhile, he has a passion for community services. He served as Chairman on the Board of Directors in the Howard County Chinese School. He has also served as president and vice president of the NASA Goddard Chinese American Club and a member in the NASA Goddard Asian Pacific American Advisory Committee for the past decade. He has won several NASA awards, including NASA Robert H. Goddard Award for Diversity and Equal Employment Opportunity.
To access the paper, click here: "Measuring Atmospheric CO2 Enhancements From the 2017 British Columbia Wildfires Using a Lidar".