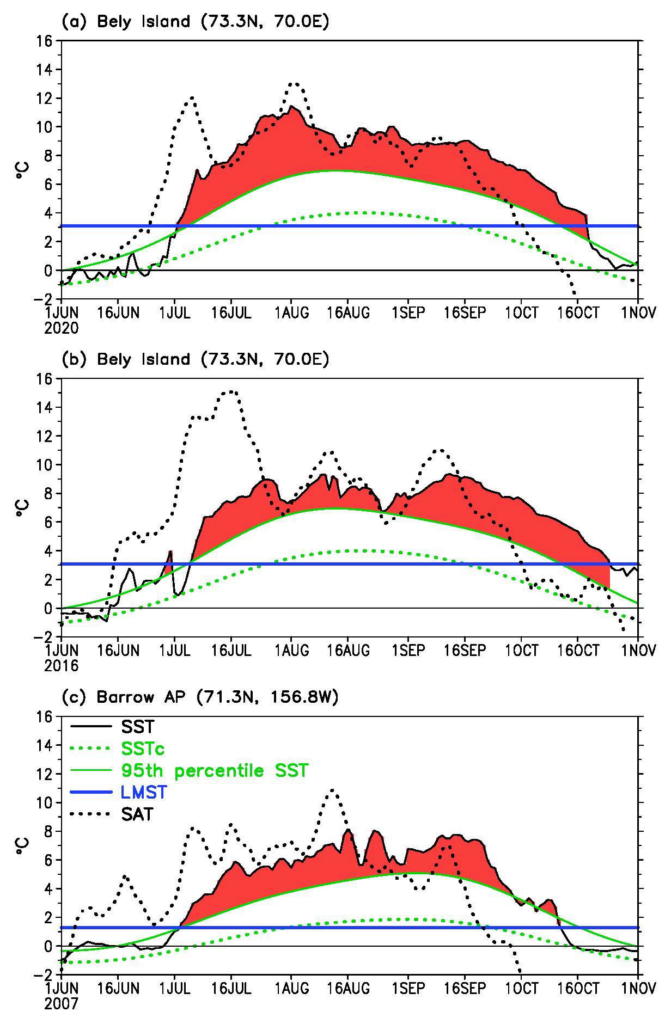 ESSIC/CISESS/SCSB visiting research scientist Tom Smith has contributed to a new article in press at Geophysical Research Letters that analyzes events of extremely warm waters in the oceans known as marine heatwaves (MHWs).
Past MHW research has used sea surface temperature (SST) to diagnose MHWs and has focused on the tropical and subtropical oceans. The article focuses instead on MHW events in the Arctic region, where SSTs are generally low. There are MHWs in polar seas and the strength of these events has been increasing with time. In fact, they are stronger than those in the other oceans in the last few decades. These MHWs may have a strong impact on the Arctic bio-ecosystem due to their low heat tolerance since the seasonal variation of SST in the Arctic is historically small. The figure shows the evolution of a marine heat wave near Barrow, Alaska.
Smith is a physical scientist working in analyses that include both satellite and in situ data, and has been with NOAA for nearly 30 years. He has contributed to climate analyses of surface temperature and precipitation used for evaluating historical climate variations.
To access the article, click here: "Prolonged Marine Heatwaves in the Arctic: 1982−2020".