---
Dr. Maria Tzortziou
By Lauren McLendon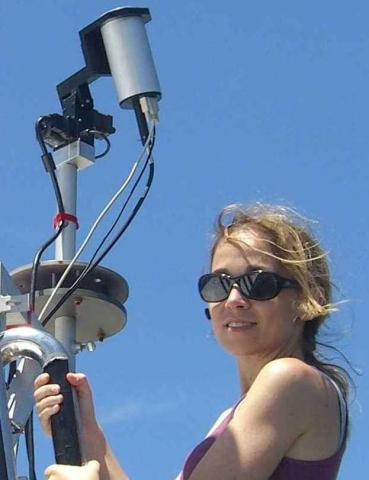 Dr. Maria Tzortziou, ESSIC assistant research scientist and research scientist at NASA Goddard Space Flight Center, and a team of scientists cruised the Chesapeake Bay last summer, taking measurements from a research vessel to better understand water quality, carbon cycling, nutrient dynamics, biology and ecosystem health.
The team consisted of more than 20 scientists from NASA, NOAA and nine other research centers and universities from across the United States. Tzortziou, along with NASA Goddard Space Flight Center Oceanographer Antonio Mannino, led the Chesapeake Bay oceanographic field campaign.
Tzortziou said the team had instruments on the ship and in the water, with ground-based monitoring networks on the land, and aircrafts flying over the ship and then spiraling downward close to the water surface.
"It was a unique combination of detailed, comprehensive air and water quality observations in the Chesapeake Bay that allowed us to study air-water-land interactions in this coastal-margin ecosystem," Tzortziou said.
One of the instruments used during the campaign was the Pandora spectrometer (photographed above). Pandora was used to measure atmospheric trace gases in the Bay, and compare results with observations from space.
"Atmospheric pollutants, such as nitrogen oxides, can fall directly onto surface estuarine waters or onto the watershed with subsequent downstream export in streams, rivers, estuaries and coastal waters," Tzortziou said. "This way, industrial activity, traffic and transportation can all affect biological and chemical processes in the water, and addressing this issue was one of the objectives of our field campaign last summer."
The data from the campaign will be used to provide information for NASA's future satellite mission, Geostationary for Coastal and Air Pollution Events (GEO-CAPE). GEO-CAPE's capabilities would be a first for NASA, according to Tzortziou.
An ocean color sensor from a geostationary orbit would provide constant coverage of dynamic ecosystems and key observations to study episodic events and hazards in the U.S. coastal waters; along with diurnal changes and rates of biological processes, land-ocean exchanges of carbon, nutrients and pollutants, and impacts of climate change and human activities on the productivity and biodiversity of our coastal ecosystems.
Tzortzioua's research specifically focuses on understanding how natural processes and human activities – such as coastal urban development, land-use changes and air pollution – affect the fluxes of pollutants, carbon and nutrients from the land and the atmosphere to bodies of water.
Additionally, her research focuses on how these inputs affect water quality, biology, biogeochemistry and biodiversity in near-shore ecosystems.
She said, addressing both ecological and socioeconomic impacts is essential.
"We have an opportunity in this job, and in a sense, also a responsibility to integrate results from our work into practical and efficient tools for improved environmental monitoring, science-based decision making and coastal management," Tzortziou said.
Professor and CBFS Executive Director Raghu Murtugudde, who shares grant funding from NASA with Tzortziou, said Tzortziou's work will hopefully help improve the ecological forecasting of the Bay.
"What she does is uses satellites to measure and calibrate the carbon or organic matter by designing models in rivers and streams to see how the carbon in the bay works," Murtugudde said.
Carbon and nitrogen coming into the Bay and rivers have different properties. Some absorb or scatter the light, which affect the color of the water that we measure from space, Murtugudde said.
By looking at how air pollution and coastal human development impact the coast, Tzortziou aims to better understand impacts on the Bay's water quality, dead zones and productivity – which will help in the forecasting of the Bay and surrounding wetlands.
Other projects she is currently leading focus on the Mediterranean Sea, the Himalayan region and Indian Ocean, and the Gulf of Mexico.
"Comparing widely diverse geographical regions can reveal significant insights into biogeochemical, physical and ecological processes, overall structure, and function of different ecosystems", Tzortziou said.
She said one aspect that she loves about her work is the combination of working out in the field – where she measures the integrated results of many interactive processes – working in the lab – where she sets up targeted experiments to separate and understand different processes – and having the analysis of measurements and combination with space-based observations and model simulations for addressing questions and improving predictions of ecosystem responses.
"You are never bored," Tzortziou said.
On less-adventurous days, Tzortziou can be found in the office, working with her group of students and post-docs, analyzing results, writing manuscripts, developing ideas for new projects, writing proposals, and teaching and training undergraduate and graduate students.
She said teaching and working with graduate students is a highlight of her work.
"I am amazed by their enthusiasm about environmental research and how eager they are to understand and protect this planet," Tzortziou said. "It's something I really appreciate."
Growing up in a large city on the coast of the Mediterranean Sea, she was able early on to enjoy and appreciate the beauty of the ocean, otherwise known as "The Big Blue".
However, she said she also witnessed the negative ecological and socio-economic impacts of increasing coastal urbanization, overdevelopment, air pollution and water quality deterioration. This experience motivated her to focus her studies on the environment.
During her first Master's in environmental physics, Tzortziou was invited by NASA to come to the U.S. in 1998 to work with NASA scientists on applications of satellite observations and studies of coastal air pollution and water quality
This led to Tzortziou pursuing a Ph.D. in atmospheric and oceanic sciences at the University of Maryland, a post-doctoral fellowship with the Smithsonian – and later with NASA – and her current position as faculty at the University of Maryland.
She is also a research scientist at NASA Goddard, an adjunct research scientist at the Smithsonian Environmental Research Center and an adjunct assistant professor at the City University of New York.
Another highlight of her work, Tzortziou said, is being able to visit new places and to learn about the environment, the culture, and the people.
"It's awesome that this job offers lots of opportunities to travel, collaborate with international teams, visit places, and observe and measure processes in so many [varied] types of ecosystems," Tzortziou said.