Local Eats: Review of The Jerk Pit
By: Maureen C. Cribb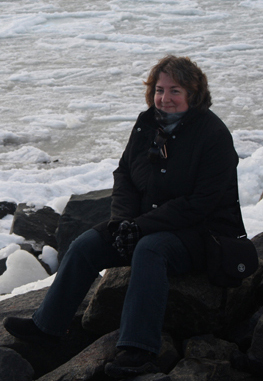 Bottom line: Good eats – would be a decent summertime, relaxing-on-the-outdoor-patio happy hour hang-out.
If you want to mellow out with some cool reggae and even cooler Red Stripe beer, like that "old-farmhouse-squeaky-floor-dilapidated-yet-clean-enough" look, and are not disturbed by the colour orange, you'll enjoy the Pit. Food's good… not extraordinary but the oxtail stew was interesting. Liked the crust of spices on the (tender) pork I ordered (and the chicken I sampled/grabbed from the plate next to me ;>) and the brown sauce had a nice kick to it (but not enough to make one's scalp sweat, Andy). Pretty relaxed joint and the owner is friendly and chatty … you grab a menu by the bar, place and pay for your order there, then wait at a table until the cook comes out with your disposable plastic plate of tasty-smelling food. Not a super-busy place and there's plenty of free parking behind the house. Several folk wandered in for some take-out while we were there so the place has its regulars. My main gripe was being surrounded by walls painted in a fairly mind-blowing shade of orange … these green eyes are too sensitive, I guess.
This is a very casual place, more suitable for hanging out with friends than for lunching with a visitor. I give it 2.5 (of 5) "yeah, mon's.
~MC
The Jerk Pit
9078 Baltimore Avenue
College Park, MD
301-982-5375
http://www.myjerkpit.com/