Local Eats: Review of Fishnet
By: Maureen C. Cribb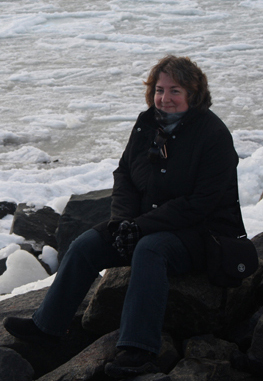 Bottom line: Worth a second visit to try the fish soup; sandwiches are rather pricey for what you get, though.
You have to admire anyone ready to take on the challenge of opening a restaurant in a part of town that once-upon-a-time, must've been some sort of quaint little town center but is now mainly residential. So hats off to the owner of Fishnet.
It's a new place in College Park off Route 1 with a small menu specialising in seafood sandwiches. I had the salmon sandwich (with a spicy aioli sauce) and Jean had the hake sandwich (with a lemon-saffron sauce); both were good. The place hasn't found a "vibe" yet, I think … decor and the way the space is designed is on the simple side (liked the "hardwood" floor look and Turkish rug at the entrance, but not the plain grey walls … tables were scattered around with lots of space between). A bit of background music would've gone a long way to fill the place with some sort of atmosphere (some Turkish folk tunes, seeing as the owner is Turkish?). Curious to see how their fish soup fares … and how their sides, the potato salad and coleslaw, stand up to the competition. I think it's a decent place to take guests for lunch, especially if you're looking for a quiet place to eat and talk. I give it a 3 (of 5) forks.