Local Eats: Kangnam BBQ Sports Bar and Grill
By: Maureen C. Cribb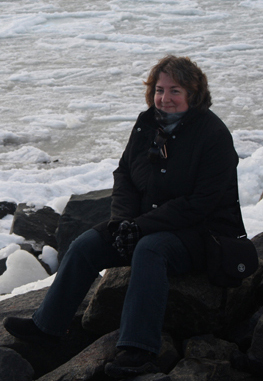 Bottom line: Check it out, it's new and more interesting than Denny's just down the street.
No grand opening yet, just a "soft" opening with limited menu items for lunch ($7, decent price for what you get) … assorted drinks (wine, Korean and non-Korean beer, soft drinks). The table BBQ heats up for the dinner menu which has more food items. Watched a few construction worker guys experiencing that for the first time (waiter cooks your meat, instructs you to place it in lettuce leaves and add kimchi, sauces, whatever's at the table, and roll it all up to make like a taco). Nice, open space, TVs hanging here and there … the pop music was annoying to me, though. But the owners want to make it a 24-hr fun party place, so I see their point. Service was fine, as were the little extra snacks they serve while you wait for your food. Had the pork bulgogi which was bland to me … will bring "nori fumi furikake" to spice up the rice next time. (They did have A-1 sauce and sriratcha bottles at the table.)
Drawback: Parking. It's limited to the strip of pavement beside the restaurant. Street parking beside it is not permitted. You could park at the lot by Pizza Autentica and walk over, though.
8503 Baltimore Ave. (the old Seven Seas space)
Oh, I'll make it 3 out of 5 forks. Waiting for the full menu.