Lights, camera, action! ESSIC's very own Assistant Director Andy Negri is performing in a local production of the play "Incorruptible," at the Greenbelt Arts Center.
The show, which opened September 21, combines slapstick humor, medieval farce, and religious faith into the story of a group of monks living in a monastery in Priseaux, France, in 1250 A.D.
Negri says he thoroughly enjoyed developing his role as Brother Martin for the production. "He [Brother Martin] is a lot like me," said Negri. "He's second in command like I am, and he's definitely a worrier, so that wasn't a stretch for me either."
This isn't the first time in the spotlight for Negri, having been cast in four shows since 2007 and also producing two. His wife Gayle has been involved in the current production and similarly produces shows as well. But for Negri, acting is truly his passion.
"I would much rather act then produce. It's just more for me" he said, laughing. "Of course, you get nervous sometimes during a show. The first night I was so nervous, and sometimes you may forget a line. Luckily, the audience does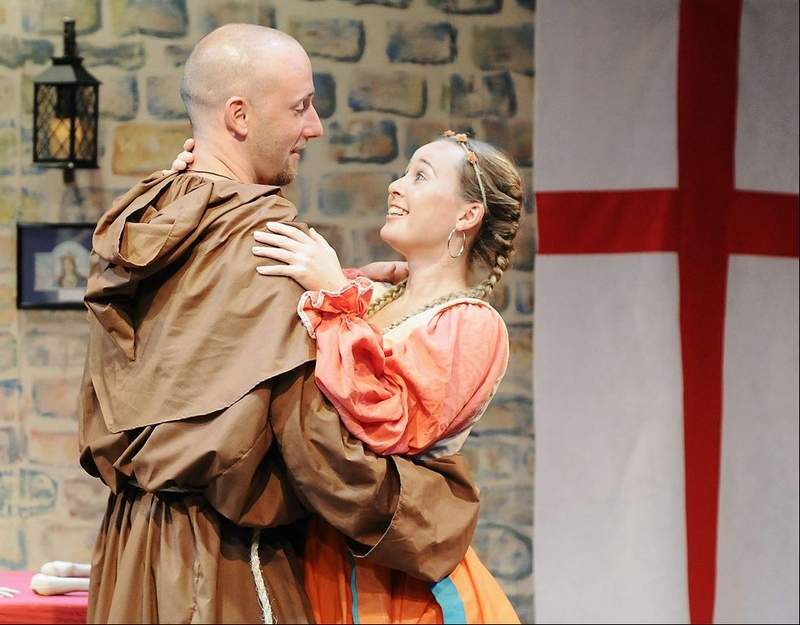 n't have a script!"
However, Negri prides himself on being well-prepared for each show. His routine consists of reading through his 400 lines whenever he has some down time during the day and again right before each performance. "It is a lot of work, but you deal with it," he said.
The ESSIC staff has been invited to attend the October 6th performance of "Incorruptible", as Negri hopes it may be the first "perfect show" the cast has put on – that is, the first performance to date without a single missing line! Negri says 17 faculty members of ESSIC have already rsvp'd for the 10/6 production, and the crew plans to go for dinner at a local restaurant near the arts center.
So how does Negri describe the play? "It's definitely a farce. A very well written script, funny play. My character is a monk, but he's no saint."
To check out more information on the show, visit the Greenbelt Arts Center's website.
Photos courtesy of Greg Dohler/The Gazette