University of Maryland (UMD) ESSIC and AOSC Professor Zhanqing Li was both an extremely active participant and recipient at the annual Fall meeting of the American Geophysical Union (AGU), held in San Francisco, CA, December 15-19, 2014. As reported this past September, AGU had unprecedentedly honored Li in 2014 with both the Atmospheric Sciences Section's Yoram J. Kaufman Award and election as an AGU fellow.
Although news of the Li's honors were in the public domain as early as July of 2014, AGU typically withholds immediate fanfare, preferring to instead truly showcase their honorees in impressive fashion at its annual fall event. Li in fact quipped after the conference, that he and his fellow award recipients were treated almost like "oscar winners."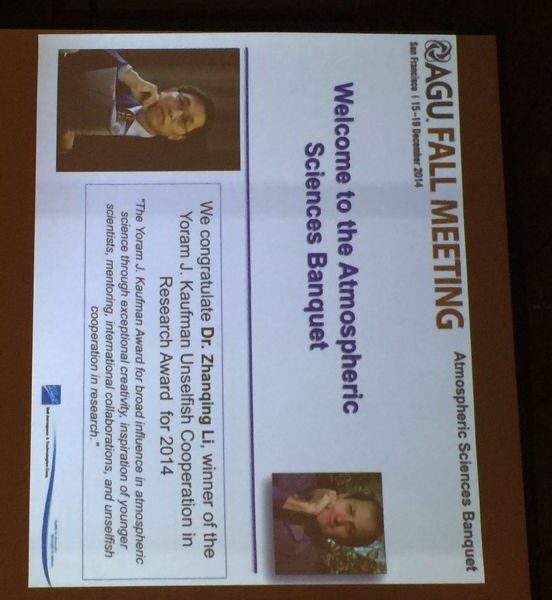 In all, Li attended three award ceremonies while at the annual meeting: The AGU Honors Ceremony for new fellows, the AGU Atmospheric Science Section banquet, where Li was recognized for his Kaufman Award, and the Chinese-American Oceanic and Atmospheric Association (COAA) banquet.
Award ceremonies aside, Li's attendance at the fall conferernce was also puncuated by his delivery of two well received presentations.
Most notable was Li's "New Fellow" lecture, which attracted a large and diverse audience, including many leading researchers from the various sub-disciplines of atmospheric science.
Li's talk entitled, "Aerosol and climate: a perspective from energy and water cycle," highlighted Li's major research themes–radiation budget, aerosol, cloud and precipitation–and included discussion on how each plays a role in the earth's climate.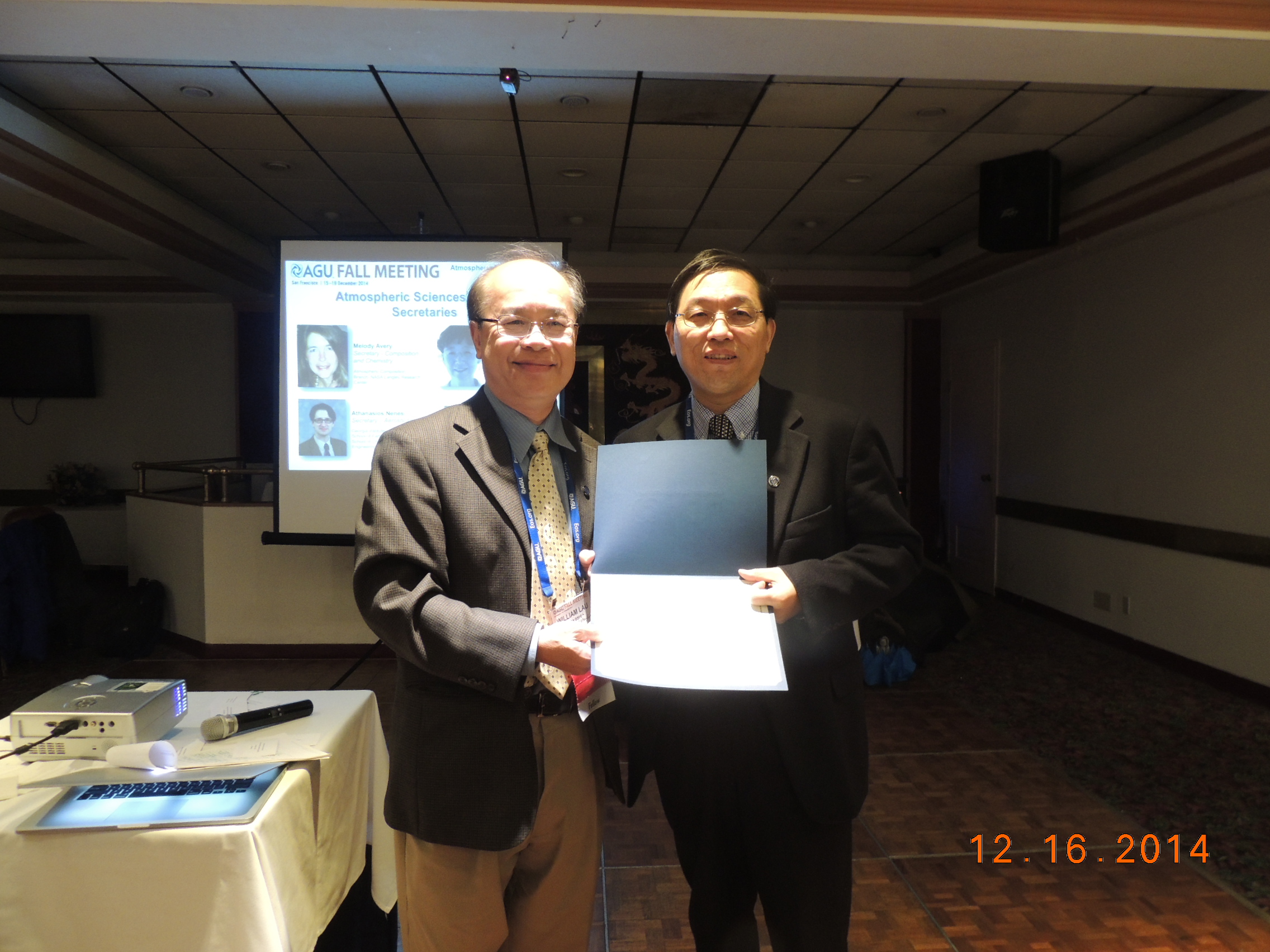 The reaction to Li's talks were overwhelmingly postive, with many requests for the accompanying slides and suggestions that Li pursue the publishing of his latest findings in Nature or Science.
(Left: AGU Kaufman Award presentation, with ESSIC Senior Research Scientist and current AGU Atmospheric Science Section President, William "Bill" Lau (L) and ESSIC / AOSC Professor Zhanqing Li (R).