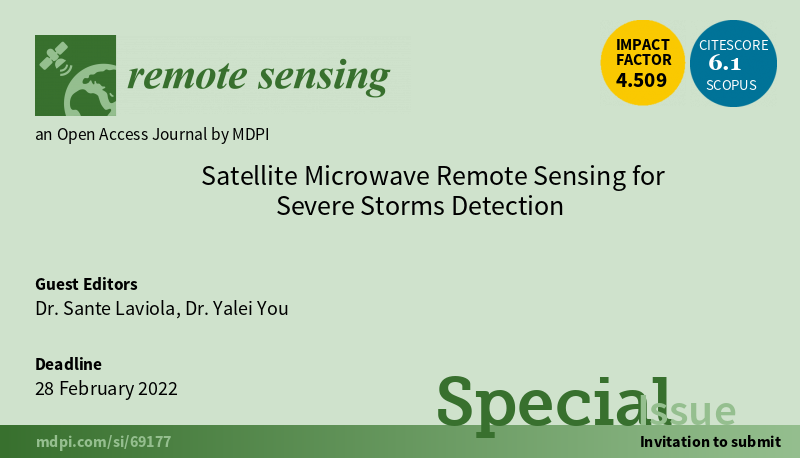 ESSIC/CISESS Assistant Research Scientist Yalei You and Sante Laviola, a researcher at The Institute of Atmospheric Sciences and Climate (CNR-ISAC) in Bologna, Italy, are guest editors of a special issue of Remote Sensing titled "Satellite Microwave Remote Sensing for Severe Storms Detection". Laviola has previously spent a year with ESSIC/CISESS as a visiting scientist.
The collection aims to attract high-quality papers where passive and active microwave satellite sensors are employed to investigate severe storms. Thus, research and review papers, operational products, data assimilation and climatology are welcomed. Contributions from CubeSat applications and theoretical studies with new microwave sensors onboard future satellite missions are also strongly encouraged. The deadline for manuscript submissions is February 28, 2022.
You received his B.S. and M.S. in atmospheric science from Yunnan University, China in 2005 and 2008, respectively. He received his Ph.D in atmospheric science from Florida State University in 2013. His research interests include passive and active precipitation retrieval algorithms, radiative transfer model and numerical weather prediction. Currently, his research topic is the development of the passive microwave precipitation retrieval algorithms for multi-sensors (e.g., TRMM, GPM, SSMIS and ATMS).
For more information on the special issue, click here: Special Issue "Satellite Microwave Remote Sensing for Severe Storms Detection"