---
Dr. William K.M. Lau
By Kristine Auble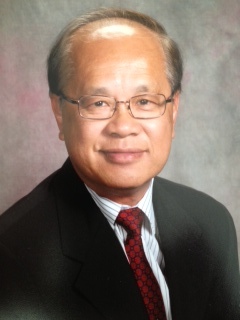 In a bid to return to his research and student mentoring roots, newly appointed ESSIC Senior Research Scientist Dr. William K.M. Lau, recently stepped away from a 34 year career at NASA to spread his knowledge to the next generation of young scientists.
With more than three decades of experience at NASA, Lau felt he'd reached his peak as the Deputy Director for Atmospheres–a component of NASA Goddard's Sciences and Exploration Directorate–and was eager to reconnect with his research and academic past.
"In the last decade, as a NASA senior executive, I was very busy doing management work. Even though I still keep my own small research group, I find it getting more and more difficult to find time to do other things i.e., research and connecting with the younger generation of scientists, that I really like to do," Lau said.
Along with his work as the Deputy Director of the Earth Science Division at NASA's Goddard Space Flight Center, Lau is a world renowned researcher with expertise in data analysis from satellite and ground based observations, computer modeling, field campaigns, and satellite missions.
Lau explained that as his years and successes at NASA continued to mount, the prospect for even greater promotion remained likely, if not imminent. Yet despite this potential for advancement, Lau says his motivation to stay just wasn't there.
"There was little incentive for me to move up. In fact, I was a bit scared I would be promoted. Then I really would have no time to do the things I love to do."
Lau explains that now is the time for him to move on.
Working at NASA Goddard, Lau studied rainfall, clouds, aerosolsand their interactions with the atmospheric circulation to understand how these elements impact the Earth¹s water cycle. His research has garnered worldwide accolades, winning a large number of national and international awards such as the John Lindsay Award and the William Nordberg Award, NASA¹s highest award in science and earth science respectively.
Yet Lau both modestly and humorously describes his past roles at NASA as not exemplify the stereotypical NASA researcher.
"I'm good at science, but I'm not an engineer, so I really don't fit the classic mold of a rocket scientist." Lau quipped.
Lau also breaks the mold with respect to his unique upbringing, which he describes as a tale of three continents.
Born in the Portuguese colony of Macau in China, Lau was given a Portuguese birth certificate and lived there for ten years of his life. He studied at a catholic Jesuit school until his family moved to Hong Kong, which was a British colony at the time. After graduating from Hong Kong University, Lau went on to attend the University of Washington, Seattle where he received his doctorate in physics.
Lau explains that his family was split as his older siblings had to stay in China during the era of the Iron Curtain after World War II. He was not able to contact his older brothers and sisters until after then U.S. President Richard Nixon, visited China in 1972.
"All this world history affected my family tremendously," Lau said of his diverse past.
Lau noted that he's proud of his global background and says his exposure to different cultures has helped to shape his work ethic.
Since joining ESSIC less than a month ago, Lau has already begun the process of re-immersing himself into academia. On Oct. 28, Lau traveled to Texas A&M University to address students on the Hadley Circulation and carbon dioxide's role in global dryness.
For Lau the trip was hopefully the tip of the proverbial iceberg, as he looks forward to future collaboration with both faculty and students alike.