---
Melissa Kenney
By Jacob Bell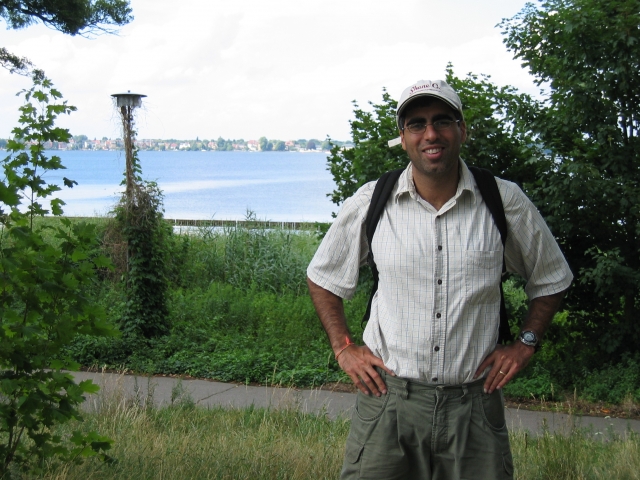 When a hurricane devastates a community and restoration plans must be evaluated for cost and helpfulness, or when state standards for water and air quality must be analyzed for effectiveness, decision-makers often seek policy counsel.
That's where Dr. Melissa Kenney comes in.
As an environmental decision scientist and a research assistant professor at ESSIC, Kenney researches how to combine scientific information and societal values to advise policy-making and inform about environmental issues.
Kenney received a bachelor's degree with distinction in environmental sciences from the University of Virginia and her doctorate in water quality modeling and decision analysis from Duke University.
Kenney's primary research focus since joining ESSIC has been developing a system of climate indicators that address four key areas of concern among scientists and policy makers: climate changes, impacts, vulnerabilities, and preparedness.
Kenney's indicator system focuses on the natural and societal effects of climate change, a departure from existing models that look mainly at physical systems like sea levels, carbon dioxide emissions, and global temperature.
"Though those are incredibly useful indicators and things we would include, what they haven't done is include [some of] the things that I think are the most useful … to decision makers, which are indicators of climate impacts and impacts on our natural systems and human sectors," Kenney said.
Climate impact indicator systems are designed for decision-makers rather than researchers or educators, whom physical system counterparts target.
"It's a slightly different audience than when you're developing this kind of information for scientists or when you're developing it for communication and education purposes," Kenney said. "And that means the kinds of indicators and the way you target and present them end up being different."
Kenney's project incorporates hundreds of scientists and 14 interdisciplinary teams, which include both scientists and practitioners who specialize in areas from forest ecosystems to energy and infrastructure system .
One aim for Kenney and her team is the indicator system be useful for legislative needs such as the President's Climate Action Plan and executive orders on open data and increasing resilience to climate impacts.
Prior to joining ESSIC, Kenney worked on state-level nutrient water quality standards. Her research led to economist collaborations that helped the EPA develop ways for states to scientifically evaluate the economic benefits of reducing nutrients in local water supplies.
Kenney's indicator system is garnering similar success. In February, the federal advisory committee for the National Climate Assessment, a U.S. Global Change Research Program tool that analyzes the impact of climate change, recommended the federal government implement the Kenney team's indicator system.
Going forward, the team will use evaluative data of the indicator system to assess its utility. The overall goal will be determining how well decision-makers understand the system, how they interpret the indicators, and what type of decisions the indicator systems are informing..
Kenney is also funded by the National Science Foundation funded Science, Engineering and Education for Sustainability (SEES) program. This collaborative work will look at the northeastern United States and the Caribbean for gradients of built, natural, and cultural infrastructure to help inform decision makers about methods of climate change resilience.
"I'm really excited to get this started," Kenney said. "[We'll be] seeing how we can institutionalize some of these findings that may prove to be very promising within existing decision support structures … that are already trusted by local decision makers. So we don't have to try and recreate the wheel, we can just add a little value to those things that already exist."