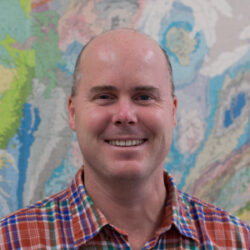 Distinguished University Professor James Farquhar has been named the chair of the University of Maryland's Department of Geology for five years, effective July 1, 2021. Farquhar holds a joint appointment at ESSIC and is also a member of the National Academy of Sciences. Farquhar succeeds Richard Walker, who served as department chair since 2016.
"As someone who has been a part of the Department of Geology and ESSIC for the past 20 years, I have gained a deep appreciation for the Earth science research done at UMD and the people who make it possible," Farquhar said in the CMNS press release. "I am, therefore, honored to serve as Geology's next chair, and I look forward to working with the college on behalf of the department and broader geoscience efforts."
Farquhar's research focuses on sulfur isotope geochemistry in a variety of terrestrial and extraterrestrial systems.  Farquhar and coworkers are best known for the discovery and interpretation of mass independent sulfur isotope signatures in samples from the early Earth that trace the evolution of oxygen and chemistry in the early atmosphere.
To read the CMNS press release, click here: "National Academy Member James Farquhar Named Chair of UMD's Department of Geology".