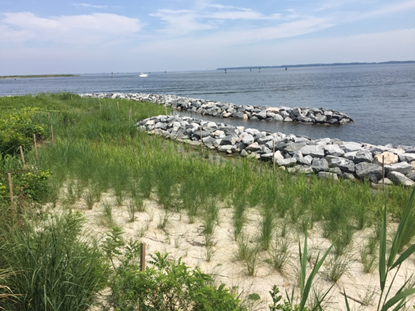 ESSIC Visiting Associate Research Professor Ariana Sutton-Grier has a new paper out in OneEarth about the importance of nature in climate resilient infrastructure. On this paper, Sutton-Grier worked with researchers from Texas A&M University, US Army Corps of Engineers, University of Georgia, Duke University, and more.
Several of the major economies of the world plan to stimulate their post-COVID recovery by spending on infrastructure. This spending, according to the consensus of economists and environmentalists, represents a once-in-a-generation opportunity to build a more sustainable global economy. Unfortunately, the economic and political damage wrought by COVID-19 constrains the ability of governments, private entities, and international funding agencies to match infrastructure needs. In this paper, the researchers suggest that this dual challenge can be solved through investing in natural infrastructure.
Sutton-Grier is an ecosystem ecologist with expertise in wetland ecology and restoration, biodiversity, biogeochemistry, climate change, ecosystem services, and nature and human health.
To access the paper, click here: "Infrastructure investment must incorporate Nature's lessons in a rapidly changing world".