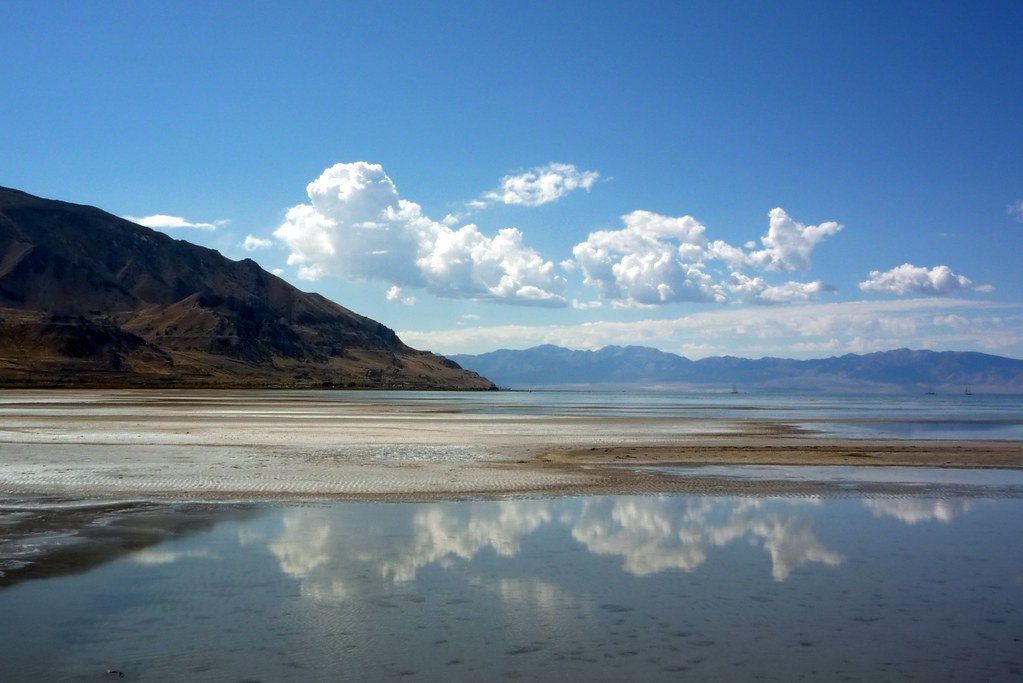 ESSIC Research Scientists Dorothy K. Hall and Do Hyuk "DK" Kang have a new paper out in Remote Sensing of Environment about the relationship between changing snow-cover conditions and the decline of Utah's shrinking Great Salt Lake (GSL).
In the paper, titled "The role of declining snow cover in the desiccation of the Great Salt Lake, Utah, using MODIS data", the researchers used satellite data products from the Terra and Aqua MODerate-resolution Imaging Spectroradiometer (MODIS) and the Landsat-7 and -8 satellites along with meteorological and streamflow data and modeled data products to make observations about the desiccation of the GSL.
Snowmelt-timing maps show that snow melted ~9.5 days earlier in the GSL basin during the study period, extending from 2000 to 2018. Air temperatures also show trends of increasing, which has led to less precipitation falling as snow, lower snow depth and snow-water equivalent, and earlier snowmelt. Also during the study period, Global Land surface Evaporation Amsterdam Model data show evaporation increasing by ~3.2 mm/yr.
These trends point to higher temperatures, greater evaporation, less snowfall and snow-on-the-ground, and earlier snowmelt in the GSL basin, leading to less streamflow into the lake. Desiccation of the lake can have harmful consequences on wildlife, recreational activities, and some local industries. An expanding lake bed can also fuel dust storms, which would worsen air quality along the Wasatch Front.
Hall is a cryospheric scientist at NASA Goddard who has been working with the intricacies of measuring snow and ice through satellite remote sensing for more than 40 years. She has authored one book, Remote Sensing of Ice and Snow, by D.K. Hall and J. Martinec (1985), 19 book chapters, more than 145 journal articles, and more than 155 other papers.
Kang is also a research scientist at NASA Goddard and works with snow research, including an implementation of snow-subroutine within a large framework hydrology model, a testing of L-band snow sensor, and a coupling of a multi-layer snow model with a microwave emission model. Currently, he is preparing a future snow mission organized by NASA including pre-launch campaigns and retrieval algorithms for terrestrial snow.
To access the paper, click here: "The role of declining snow cover in the desiccation of the Great Salt Lake, Utah, using MODIS data".