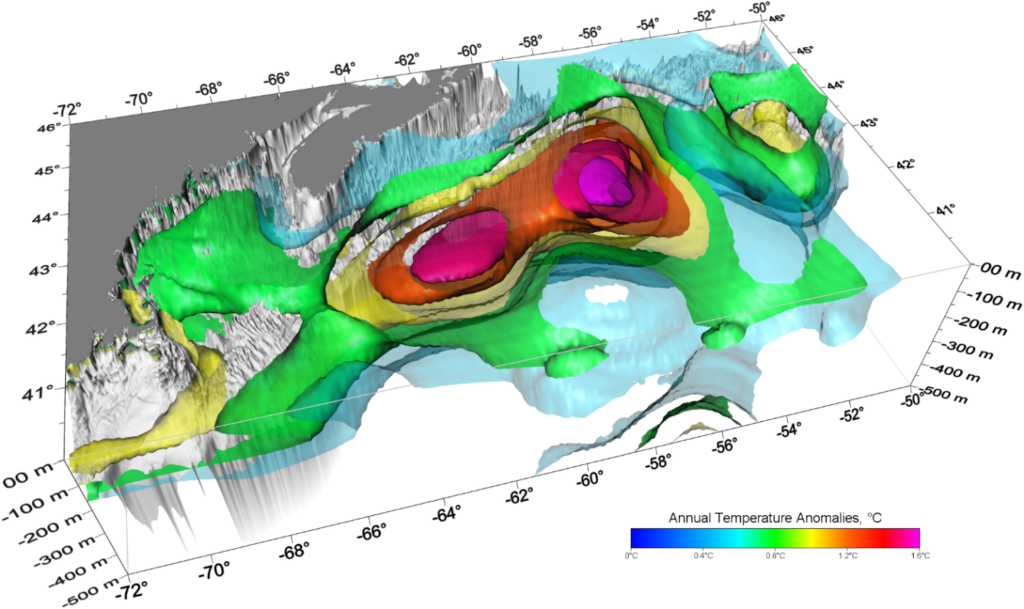 Alexey Mishonov, ESSIC/CISESS Associate Research Scientist and NOAA Affiliate, has a new article in press and published in the journal Limnology and Oceanography titled "Recent Warming and Decadal Variability of Gulf of Maine and Slope Water".
This article documents a study that aims to better understand regional long-term climate trends caused by the Gulf Stream decadal variability. The oceanographic conditions in the Gulf of Maine, Scotian Shelf, Slope Sea, and surroundings are determined by interplay of two major circulation systems—the Gulf Stream and Labrador Current. The in-situ data analysis confirms a continuous slow warming within all three areas over the last five decades. This warming has accelerated in the last ten years coinciding with a strengthened northward incursion of warm water in the summer months. Such strong northward migration of warm water was not seen in the four preceding decades, making the current rapid warming different. The writers argue that the recent decadal-scale warming is unique and may signal that the shift of the thermal regime in this region may be at least partially caused by a changed pattern of the Gulf Stream extension zone's long-term variability.
Mishonov is a researcher with extensive experience in various fields of oceanography, including ocean color, water transmissivity and particulate organic carbon study, oceanographic data management, analysis, and climate research.
To access the paper, click here: "Recent Warming and Decadal Variability of Gulf of Maine and Slope Water".