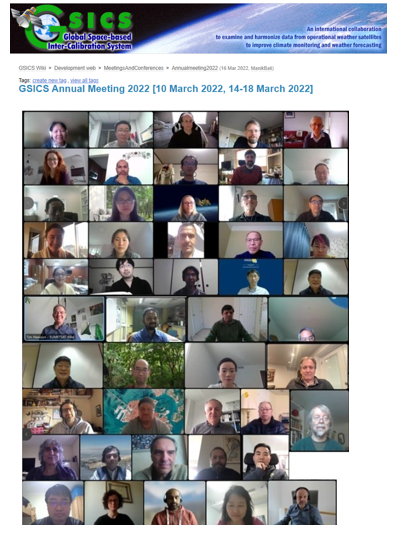 The 2022 Annual Global Space-based Inter-Calibration System (GSICS) meeting was successfully held online on 10 March 2022 and 14 – 18 March 2022. Dr. Fangfang Yu, ESSIC/CISESS Associate Research Scientist and new presiding chair of the GSICS Research Working Group (GRWG), led the effort to organize the meeting with the help of the GSICS Coordination Center (GCC) and GRWG members.
Dr. Yu also organized and chaired the two plenary sessions – the mini-conference and the agency reports sessions on 14 and 15 March, respectively. She also made the GRWG annual report to the GSICS community in the cross-cutting session on 18 March. The mini-conference this year was resumed after a two-year gap since the pandemic started in early 2020.  More than 65 people from different international space and operational agencies, research institutes, universities, and private sectors attended the meeting.
GSICS, initiated by World Meteorological Organization (WMO) and the Coordination Group for Meteorological Satellites (CGMS) in 2005, is an international collaborative effort to monitor, improve and harmonize the quality of observations from operational weather and environmental satellites of the Global Observing System. 
Fangfang Yu is an associate research scientist at ESSIC/CISESS. She has been supporting and working on the calibration and validation of NOAA Advanced Very High-Resolution Radiometer (AVHRR) first and then GOES weather instruments since 2005.