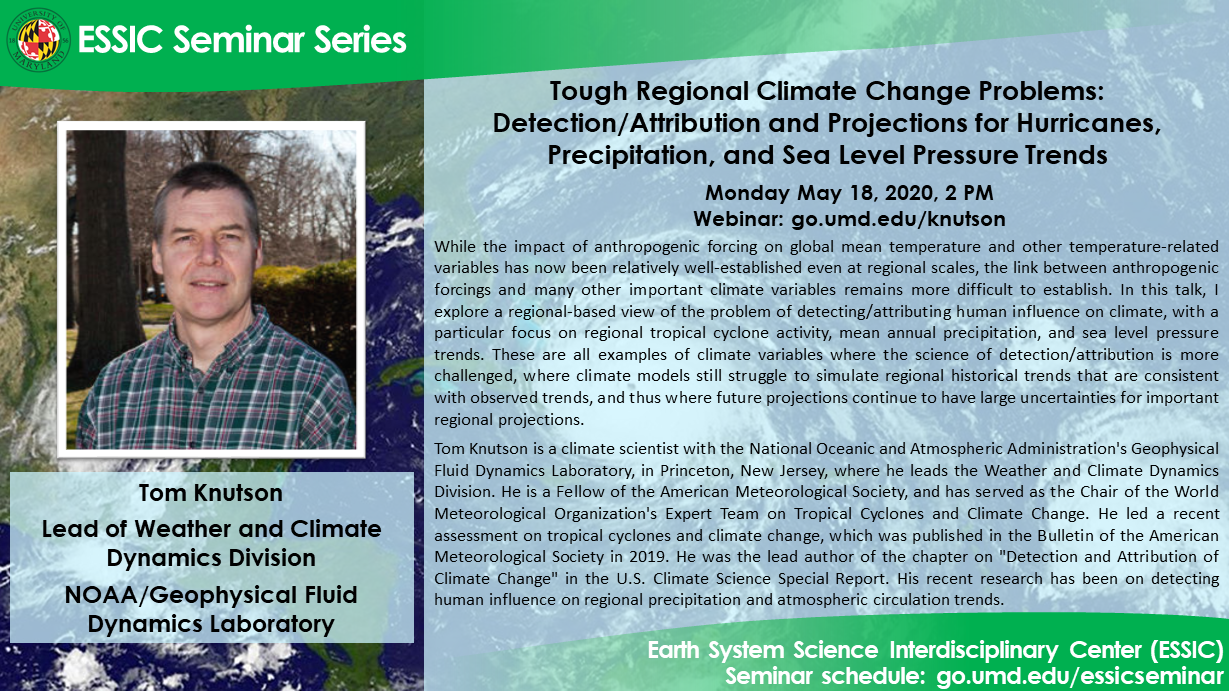 Tough Regional Climate Change Problems: Detection/Attribution and Projections for Hurricanes, Precipitation, and Sea Level Pressure Trends
This event has passed. See the seminar recording here:
---
Tom Knutson
Lead of Weather and Climate Dynamics Division
NOAA/Geophysical Fluid Dynamics Laboratory
Monday May 18, 2020
ESSIC Conference Room 4102, 5825 University Research Court, College Park 20740
Abstract:
While the impact of anthropogenic forcing on global mean temperature and other temperature-related variables has now been relatively well-established even at regional scales, the link between anthropogenic forcings and many other important climate variables remains more difficult to establish. In this talk, I explore a regional-based view of the problem of detecting/attributing human influence on climate, with a particular focus on regional tropical cyclone activity, mean annual precipitation, and sea level pressure trends.
These are all examples of climate variables where the science of detection/attribution is more challenged, where climate models still struggle to simulate regional historical trends that are consistent with observed trends, and thus where future projections continue to have large uncertainties for important regional projections.
Bio-sketch:
Tom Knutson is a climate scientist with the National Oceanic and Atmospheric Administration's Geophysical Fluid Dynamics Laboratory, in Princeton, New Jersey, where he leads the Weather and Climate Dynamics Division. He is a Fellow of the American Meteorological Society, and has served as the Chair of the World Meteorological Organization's Expert Team on Tropical Cyclones and Climate Change. He led a recent assessment on tropical cyclones and climate change, which was published in the Bulletin of the American Meteorological Society in 2019. He was the lead author of the chapter on "Detection and Attribution of Climate Change" in the U.S. Climate Science Special Report. His recent research has been on detecting human influence on regional precipitation and atmospheric circulation trends.
Webinar info:
Event site: http://go.umd.edu/knutson
Event number: 478 573 621
Event password: essic
——————————————————-
To join the online event
——————————————————-
1. Click here to join the online event.
Click "Join Now".
——————————————————-
To join the audio conference only
——————————————————-
US Toll: +1-415-655-0002
Global call-in numbers
Access code: 478 573 621
——————————————————-
For IT assistance
——————————————————-
Cazzy Medley: cazzy@umd.edu
Travis Swaim: tswaim1@umd.edu