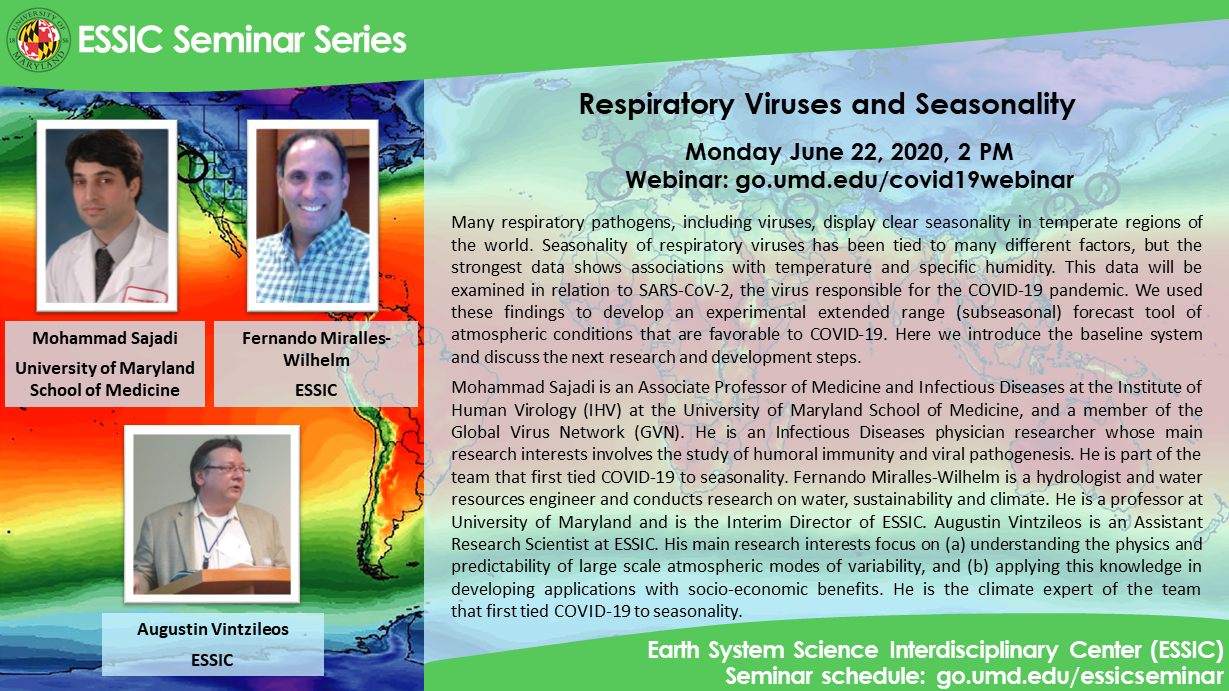 Respiratory Viruses and Seasonality
This event has passed. See the seminar recording here:
---
Mohammad Sajadi1, Fernando Miralles-Wilhelm2, and Augustin Vintzilleos2
1

Institute of Human Virology, UMD School of Medicine
2

UMD/ESSIC
Monday June 22, 2020
ESSIC Conference Room 4102, 5825 University Research Court, College Park 20740
Abstract:
Many respiratory pathogens, including viruses, display clear seasonality in temperate regions of the world. Seasonality of respiratory viruses has been tied to many different factors, but the strongest data shows associations with temperature and specific humidity. This data will be examined in relation to SARS-CoV-2, the virus responsible for the COVID-19 pandemic. We used these findings to develop an experimental extended range (subseasonal) forecast tool of atmospheric conditions that are favorable to COVID-19. Here we introduce the baseline system and discuss the next research and development steps.
Bio-sketch:
Mohammad Sajadi is an Associate Professor of Medicine and Infectious Diseases at the Institute of Human Virology (IHV) at the University of Maryland School of Medicine, and a member of the Global Virus Network (GVN). He is an Infectious Diseases physician researcher whose main research interests involves the study of humoral immunity and viral pathogenesis. He is part of the team that first tied COVID-19 to seasonality. Fernando Miralles-Wilhelm is a hydrologist and water resources engineer and conducts research on water, sustainability and climate. He is a professor at University of Maryland and is the Interim Director of ESSIC. Augustin Vintzileos is an Assistant Research Scientist at the Earth System Science Interdisciplinary Center (ESSIC) of the University of Maryland. His main research interests focus on (a) understanding the physics and predictability of large scale atmospheric modes of variability, and (b) applying this knowledge in developing applications with socio-economic benefits. He is the climate expert of the team that first tied COVID-19 to seasonality.
Reference:
Sajadi, M. M., Habibzadeh, P., Vintzileos, A., Shokouhi, S., Miralles-Wilhelm, F., & Amoroso, A. (2020). Temperature, Humidity, and Latitude Analysis to Estimate Potential Spread and Seasonality of Coronavirus Disease 2019 (COVID-19). JAMA Network Open, 3(6), e2011834-e2011834.
Webinar info:
Webinar thread: http://go.umd.edu/covid19webinar
Event site: http://go.umd.edu/covid19seminar
Webinar number: 160 231 4143
Webinar password: essic
To join the audio conference only:
US Toll: +1-415-655-0002
Global call-in numbers
For IT assistance:
Cazzy Medley: cazzy@umd.edu
Travis Swaim: tswaim1@umd.edu