Following a chilly start for early morning "set-up crews," the University of Maryland College Park campus experienced near-perfect weather conditions for its annual community outreach event, Maryland Day.
According to Center event Co-coordinator Maureen Cribb, ESSIC welcomed both new visitors and return "followers" alike to the Center's storefront-like display at the entry to the Earth Science Tent.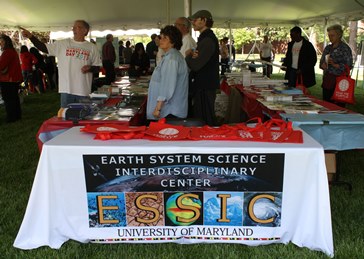 Accentuated by the Center's familiar color-logo emblazoned on a new tradeshow tablecloth, the Center's display included its traditional and expected Maryland Day commodities, such as the Magic Planet, along with the usual compliment of colorful NOAA-NASA earth science-related posters.
Yet it was perhaps the Center's new activities for the 2013 exhibit however, that were the most enjoyed by visitors.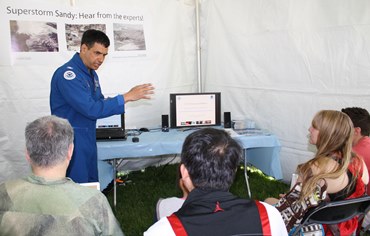 According to Cribb, the Center's in-tent presentation area that featured rotational talks on Hurricane Sandy was extremely popular. Cribb singled-out guest speaker Captain Barry Choy of the NOAA Corps (one of four invited lecturers), as being particularly engaging to visitors, particular to youngsters fascinated by Choy's appearance in his Corps flight-suit.
Cribb labeled the ESSIC "rain-gauge race" activity as being "super-popular" and perhaps the hit of the day, particularly with kids. Engineered by event Co-Coordinator Andy Negri (who observed a similar interpretation at a recent AMS meeting), the activity challenged participants to transfer water from a bucket to a range gauge (in a set period of time), equipped only with a "cloud-shaped" sponge.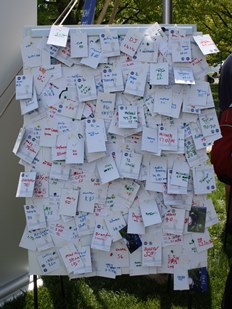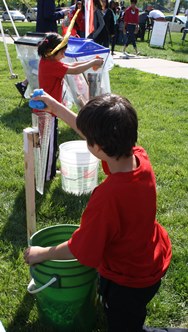 Contestants were awarded with the placement of their names and collected water amounts on a signboard, along with arguably the "prize" of the Earth Science Tent, the jellyfish "URL" yo-yo, featuring the Center's web-site link.
First-year volunteer, Business Office staffer Cathy Jan, was later singled out by ESSIC Director, Antonio Busalacchi, for her distinguished day-long service at the "gauge." Jan's tenancity at the activity was rewarded in fact, by a brief visit from UM President Wallace D. Loh.
Busalacchi also expressed his appreciation to Negri and all who participated, observing that the "ESSIC presence at Maryland Day was again duly noted."
Busalacchi furthered that it's ultimately the contributions of faculty and staff who volunteer their own personal time in support of the Center and the university, who continue to make the event such a huge success.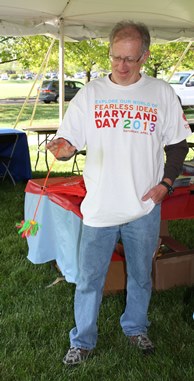 For alumnus graduate student intern Hari Asokan, who continues to volunteer annually, the event provides an opportunity to reconnect with his ESSIC family. "ESSIC for me, is like my (extended) family and I treat Maryland Day like my family re-union every year," Asokan said.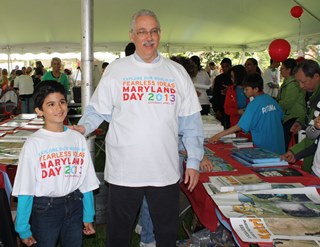 In fact, family members of ESSIC faculty and staff have become fixtures in recent years. "Future astronaut" Arian Moradi, son of ESSIC Assistant Research Scientist and new Seminar Coordinator, Isaac Moradi, is a repeat volunteer and had this to say about his experience.
For now, Cribb says the ESSIC Maryland Day planning committee will perform a brief post-event analysis and then go on hiatus until the fall.
Although there are no imminent "themes" planned for the ESSIC Maryland Day 2014 exhibit, Cribb stated that both she and Negri hope to engage larger numbers of volunteers in briefer shifts next year.
Imagery Courtesy of M.Cribb