ESSIC continued its tradition of providing an informative and entertaining exhibit at the 2014 installment of Maryland Day, with both old favorites and new attractions.
This year marked the 16th anniversary of the University of Maryland's flagship day, which featured the 2014 theme of "fearless ideas and enterprises."
For its display, ESSIC showcased its interactive "Science on a Sphere" globe, as well as a game where participants raced to fill a rain gauge with water from cloud-shaped sponges.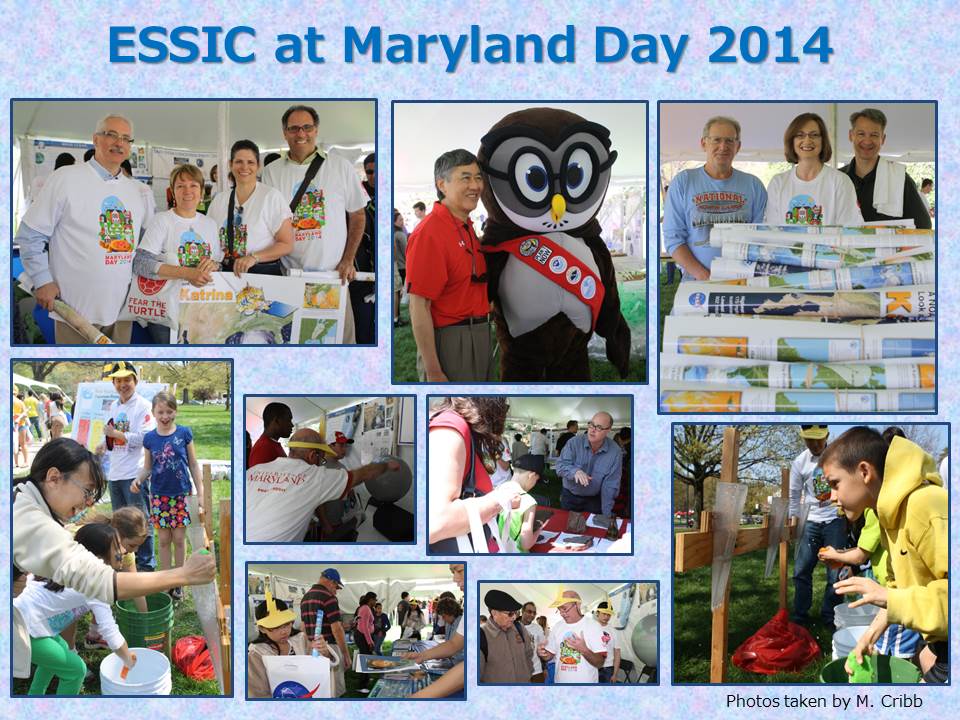 "The rain gauge competition was a huge success with visitors of all ages," said Maureen Cribb, ESSIC Faculty Research Assistant and event co-coordinator. "I didn't count the number of pins, but you can tell that hundreds of people played the game."
ESSIC's turnout was especially strong, when considering that many historic neighboring department exhibits had been relocated to the university's new Physical Sciences Complex this year. Cribb also noted a slight downturn in organizationally-sponsored attendance.
"Not as many school groups showed up this year compared with other years," Cribb said. "Still, there were lots of visitors asking questions, playing with the Magic Planet, grabbing posters and the other handouts we had to offer."
This was the second consecutive year that ESSIC partnered with NOAA, which helped to attract visitors to the shared tent. The NOAA group rolled out its own precipitation-based game, as well as their interactive flooding table. Rebekah Esmaili, an atmospheric and oceanic science graduate student, also helped bring another NOAA attraction to life, by working a shift as "Owlie Skywarn," NOAA's mascot for lightning safety.
Representatives from the Maryland and Delaware Climate Change Education Assessment and Research program (MDCCEAR), which aims to advance climate change knowledge in schools and communities, also joined ESSIC for the day's festivities.
According to Cribb, the MDCCEAR representatives so enjoyed fielding questions from visitors, that they were inspired to promise a bigger and better presence at Maryland Day next year.
In a post-event message to the Center, ESSIC Director Professor Antonio Busalacchi, jokingly thanked the "Weather Gods" for providing a banner event day. Busalacci also expressed his appreciation and gratitude to Center faculty and staff, who continue to make the event a success.
"On a gorgeous weekend when everyone could have been spending the time with friends and family, I am very appreciative to all those that came out to staff the ESSIC displays at Maryland Day," Busalacchi said.