At the ESSIC-hosted Holiday Party December 14th, 2012, annual peer awards were presented by Director Antonio Busalacchi for the year's best paper, as well as the staff employee of the year.
The Best Paper Award Committee comprised of, Drs. Can Li, Sujay Kaushal, and Michael Evans, agreed that a first ever "tie" had occurred during this year's paper review process and jointly awarded the prize to researchers Matt Sapiano and Isaac Moradi.
Sapiano earned the distinction for having a well-presented study applying a recently developed statistical technique to the global marine phytoplankton data set from satellites. "Not only did the authors make important scientific interpretations that will advance the understanding of oceanic ecosystems," the committee wrote, "they also provided a framework that can be used for other data sets."
Sapiano says he was shocked when he found out he was the receiver of this year's award. "I didn't even know my paper was submitted until today," he said.
Reference:
M.Sapiano, C. Brown, S. Schollaert Uz, and M. Vargas (2012), Establishing a global climatology of marine phytoplankton phenological characteristics, J. Geophys. Res., 117, C08026, doi:10.1029/2012JC007958.
Moradi, the joint recipiant of the award, was excited about winning the annual ESSIC distinction. "We did a lot of work on this paper, I spent most of my weekends for about a year getting this done and we didn't know what would come of it." Moradi said. "It's exciting, because it's the first study of its sort."
The committee praised Moradi for having a paper with the first effort attempting to develop a new technique to correct for the geolocation errors for NOAA's microwave satellite sensors. "This nicely presented study introduces a software package that can potentially be applied to different microwave sensors, and the resulting corrections may have a profound impact on atmospheric research," said the committee.
Reference:
Moradi, I., H. Meng, R. Ferraro, and S. Bilanow (2012), Correcting geolocation errors for microwave instruments aboard NOAA satellites, IEEE Trans. Geosci. Remote Sens., in press.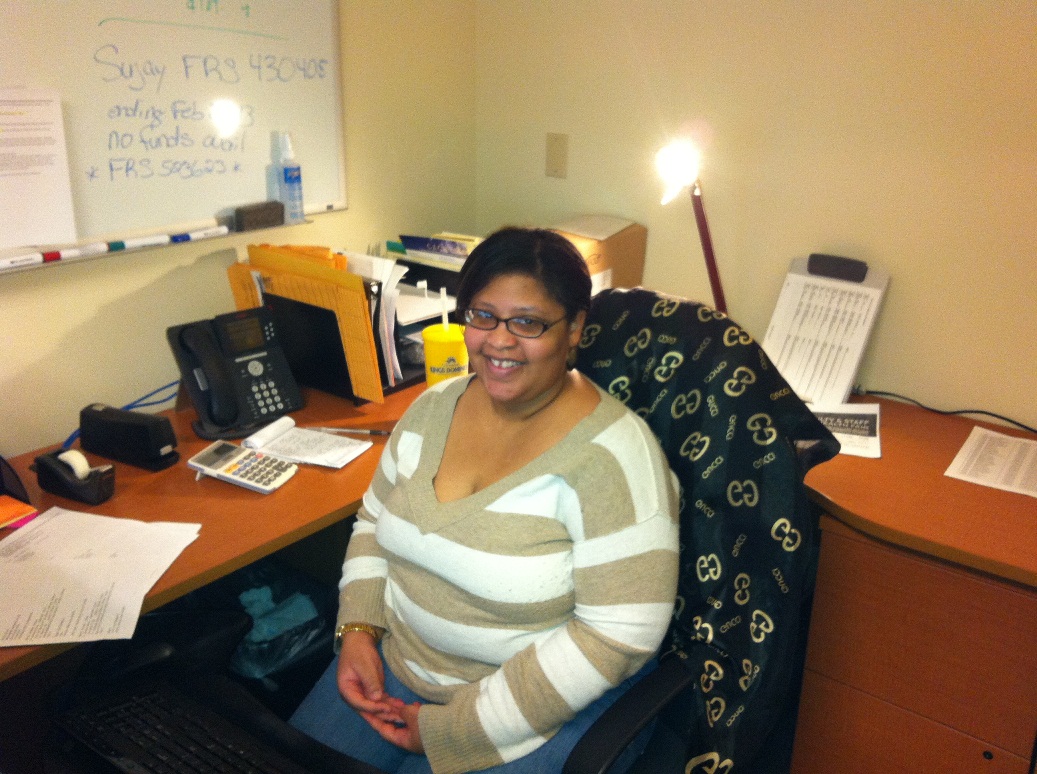 The annual Staff Award Committee, which consisted of two previous winners of the annual award (Jean LaFonta and Andy Negri), unanimously selected Program Management Specialist Kimberly Hardaway, in recognition of her efforts within the ESSIC Business Office.
Hardaway, who supports Center travel and purchasing said she was completely surprised by the award and considered the recognition a huge compliment.
Hardaway further explained that within ESSIC's fast-paced environment, there often isn't time for direct feedback from the users she supports, so she took great satisfaction in learning that her role and efforts were appreciated by Center faculty and staff.