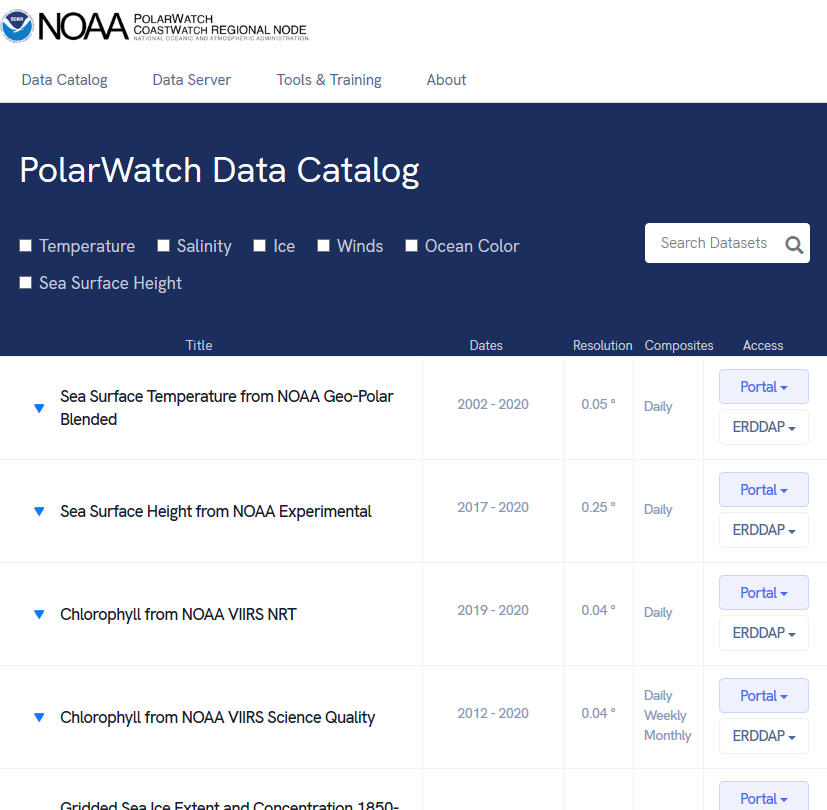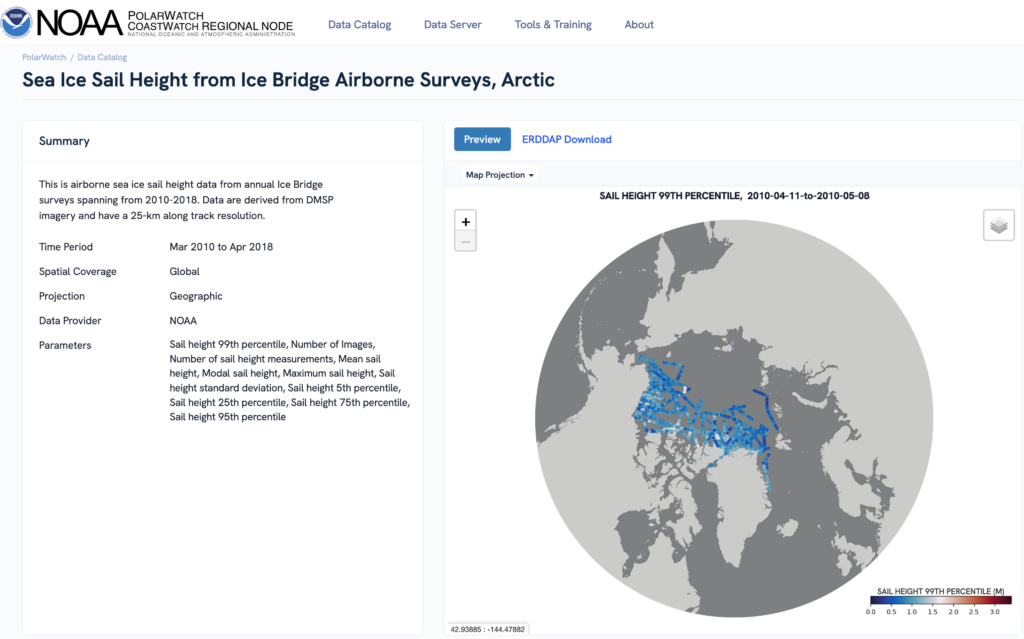 As part of the support to the NOAA/NASA Ocean Surface Topography Science Team (OSTST), ESSIC/CISESS scientists Sinéad Farrell and Kyle Duncan have been developing datasets for the latest node of NOAA CoastWatch/OceanWatch program: NOAA PolarWatch.

PolarWatch enables data discovery, easy access, and broader usage of high-latitude satellite data products, especially those developed by NOAA/NESDIS/STAR/SOCD. It delivers multi-sensor physical and biological ocean remote sensing data in support of broad applications in the Arctic and Southern Oceans. In August, the PolarWatch website was updated to offer a new catalog view that makes it easier to compare datasets and provides streamlined access to the data.
There are now over 100 datasets, including satellite data, model output, and in situ measurements from field sensors. The newest satellite datasets are from the NOAA-16 Visible/Infrared Imager Radiometer Suite (VIIRS): Daily sea ice surface temperature, concentration and thickness are now available for the Arctic and Antarctic at 0.795 km resolution. PolarWatch also provides easy access to the NOAA Laboratory for Satellite Altimetry Polar Ocean Data System (PODS) data products, including sea ice surface roughness, and pressure ridge sail height, that were derived from a decade of airborne observations.
In addition to her work with ESSIC/CISESS, Farrell is a principal investigator on the NASA ICESat-2 Science Team and a member of the Mission Advisory Group for the Copernicus Polar Ice and Snow Topography Altimeter. She is also an associate professor with the University of Maryland Department of Geographical Sciences. Kyle Duncan is is based at the NOAA Laboratory for Satellite Altimetry. His main research interests include active remote sensing, laser altimetry over sea ice and ice sheets, and the impact of polar climate change on the Earth's climate system.
For more information, visit the NOAA PolarWatch website here.