---
Dr. Xin-Zhong Liang
By Wynne Anderson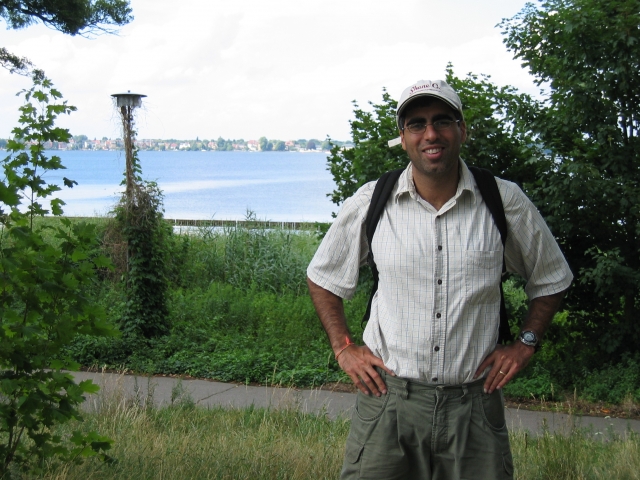 With a team of researchers and his own wing of offices, Dr. Xin-Zhong Liang is a well-known figure within the ESSIC community. Yet his high profile today begins with a humble start.
In 1999, Liang was hired as a professor at the University of Illinois Champagne, bringing with him an ambitious vision for system modeling. He wanted to create a system model to predict patterns in things including extreme weather, extreme climate, air quality, water quality, invasive species and the future of climate change.
The model would work heavily with social science to bring the human dimension on board and to see how the human response to climate change will affect the future. In essence, Liang would look at both the system changes and how humans respond to them, creating a model that meshes the natural and material world to eventually influence policy decisions.
Liang knew that working for a large state agency like the university would be beneficial and that his model could be something that the state government could use to make future decisions. Still, he also knew that creating a system would come with many challenges.
In the world of system models, it's very tough to find financial support, Liang said. Working by himself out of a small university department, Liang could not compete with some of the larger organizations out there.
"The bigger agencies have developed bigger models, with money from like NASA and NOAA… NSF sponsors NCAR, NASA has their own modeling team," Liang said. "The only way a university team can get funding would be to write a proposal."
And that's exactly what Liang did. In the first three years of his work, Liang wrote proposals "day and night," and was awarded enough funding to not only start work on his model but to put together a team of seven other scientists to work with him. The team members now develop their own proposals, but they still work as a group as well.
Then, just over three years ago, Liang visited ESSIC to see a seminar, not knowing that he would soon apply for a position at the center. The location and size of the University of Maryland campus particularly interested Liang, who liked the idea of being surrounded by large research organizations like NASA. In early 2010, a position opened at ESSIC, and he applied and was offered the job.
Liang took the job here for its location and the benefits for his team. ESSIC offered Liang an entire hallway with offices next to each other so that he could keep his researchers close together, which he believes helps people to work more efficiently.
In the middle of Liang's fourth floor corridor is an office that belongs to no one in particular but is called instead the "Zero Room." Inside, there's a ping pong table and a place to sit and eat. Every day, Liang and his team eat lunch together in this room, where everyone is considered equal, or at "zero." Liang and his scientists use the room as a place where they can relax as well as a place for work.
In the room, there is no boss, said Liang, just a team working together.
"We use this for closeness, so we know each other. If we have problems with science or research we mediate these right there and it's very efficient," Liang said. "There's very little time to make a group meeting, but most of the problems are solved over lunch."
The group needs to be close in order to work well together, as any team would if they spent nearly a decade together developing just one model. Liang has an uncanny ability to envision the long term goals, with his model in the development process for over nine years with almost no work to show for it.
"Develop in stages," Liang said, "if you don't want the final product to be a waste of time. In the end, you produce one model that incorporates all of the steps."
One of the team's developments is online already, with a huge demand from the science community for the next to come out, said Liang. After publishing their first paper on the model, reviews suggested that it will be heavily cited and will provide a basis on how to deal with climate change.
Liang credits this hype to the work that he and the other scientists have accomplished not as individuals, but as a team. "I push the individuals very hard but use the group as leverage," Liang said.
"As a group, we have different people working on different things. If they are fighting individually, they are not strong enough to compete, but if they are working together they can compete in this very tough funding situation."