---
Dr. Emily Smail
By Teri West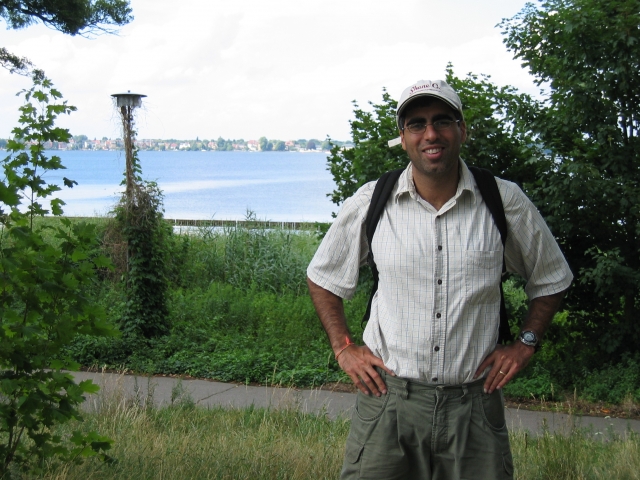 ESSIC senior faculty specialist Emily Smail entered graduate school with an interest in biology, expecting to earn her doctorate and then continue with research in the professional realm. It was at a conference during that period, however, that her path shifted.
"People were arguing with each other about whether anammox or denitrification was more important for the nitrogen balance and the oxygen minimum zone of Oman, and I just thought, 'Oh wow, we're really getting down in the weeds here,'" she said.
Smail started thinking about what lay beyond the journal articles and presentations in academic circles, intrigued by research's ability to directly help communities. She discovered an interest in playing an intermediary role in that process and pursued work in policy after earning her degree.
From NOAA's Center for Weather and Climate Prediction (NCWCP) in College Park, Md., Smail coordinates programs that connect parties around the world with scientific information that they can use to back policy.
One such mechanism that Smail and other policy scientists use to share and fine-tune data is the Group on Earth Observations (GEO) collaboration. The GEO connects politicians, academics, businesses and scientists around the world to help shape policy.
Blue Planet, a new GEO initiative which Smail coordinates, promotes the use of ocean observations in environmental decision-making. The program, which recently began working with countries in the Caribbean, provides key decision-making data and resources to groups or organizations encountering related issues, Smail said.
"There is a lot of data, particularly satellite data, available that [Caribbean nations] could be using and want to be using but they don't know how," Smail said. "[F]or example, they have a lot of problems with sargassum [brown macroalgae seaweed] clogging up the beaches or being troubles for navigation and things like that, and so we're working to bring together a couple different activities in the region that are looking at sargassum monitoring."
Blue Planet is holding a workshop in January in Saint Vincent and the Grenadines which will focus on how data-based policies can support the United Nations' Sustainable Development Goals. Participants will include politicians, scientists and other individuals local to the islands.
Smail sees prospects for expanding that workshop model to other regions around the world.
She also oversees GEO AquaWatch and NOAA CoastWatch which similarly spread access to data about water systems.
Smail grew up in Southern Virginia and attended the University of Southern California to earn her doctorate. Her policy work took her from a fellowship in the Senate to an aquarium in Hawaii where she designed educational tools about climate change to reach adult audiences.
Since arriving at ESSIC, she has spent about a week a month traveling to meetings around the world to reach program partners and help foster the connections that her projects thrive off of.
"There's a lot of great science that goes on and a lot of times it doesn't kind of make its way up to people that are making policy or doing environmental management, so trying to link science with decision making is something that I'm really interested in," she said.