ESSIC/CISESS Scientist Daile Zhang is the first author of a presentation that was given at the 36th International Conference on Lightning Protection in Cape Town, South Africa during October 2-7, 2022. She has published a conference paper, which was presented by the co-author Ron Holle, a former meteorologist for Vaisala as well as NOAA. The paper is titled "The Epidemiology of Lightning in Mainland China – A Review of Two Datasets from the 1950s to 2018."
The study examined two new resources – the Chinese Meteorological Hazards Collection and the Yearbooks of Meteorological Hazards in China for the number of lightning-caused deaths and injuries in mainland China from the 1950s to 2018. While the numbers before 2008 are often in general agreement with previous analyses, the data collection criteria vary sporadically from year to year and reveal the difficulty of obtaining a consistent and comprehensive estimate of the lightning impacts on people in mainland China. Even though it is not clear whether the sudden decrease since 2008 was valid or due to the incompleteness of the collection, it is still believed that the numbers are going down owing to improved on-site lightning safety facilities, warning systems, public awareness, and education. The study provides a valuable set of information to help us understand the history of lightning fatalities and injuries in mainland China that can be used to provide guidance for future lightning safety education.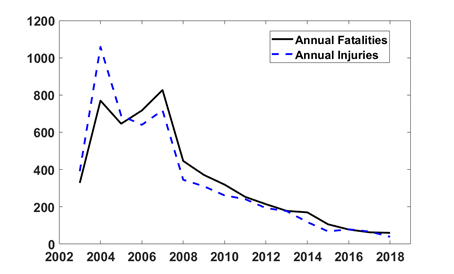 Zhang's work at ESSIC focuses on evaluating and assessing space-based lightning sensors such as the GLM. She is a part of the ESSIC/CISESS Geostationary Lightning Team, which also includes Scott Rudlosky, Guangyang Fang, and Joseph Patton.