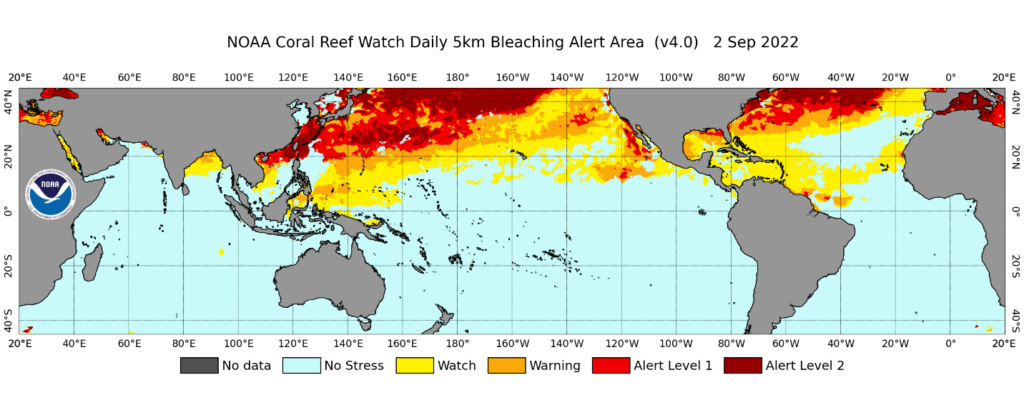 NOAA Coral Reef Watch (CRW) has released a new version (v4.0) of its world-renowned daily global 5km-resolution satellite coral bleaching heat stress monitoring product suite.
Spanning September 1, 1981 to the present, the experimental v4.0 coral bleaching heat stress products are based on CRW's prototype v4.0 daily global 5km satellite sea surface temperature (SST) data product, CoralTemp. In addition to CoralTemp, other experimental v4.0 products included in this release are: Coral Bleaching HotSpot, coral bleaching Degree Heating Week (DHW), and Bleaching Alert Area. CRW developed the v4.0 daily global 5km satellite coral bleaching heat stress products with funding support from the NOAA Coral Reef Conservation Program. CRW and its major partners will continue to test, evaluate, and improve the experimental v4.0 products over the year ahead, prior to their official, public release on the CRW website.
The NOAA Coral Reef Watch program is an initiative supported by the Earth System Science Interdisciplinary Center (ESSIC)-administered Cooperative Institute for Satellite Earth System Studies (CISESS). ESSIC/CISESS Scientists include Senior Faculty Specialist, Jacqueline De La Cour and Faculty Specialist, Erick Geiger. The team also includes ESSIC/CISESS subawardees, Drs. William Skirving and Blake Spady, at ReefSense in Townsville, Australia.