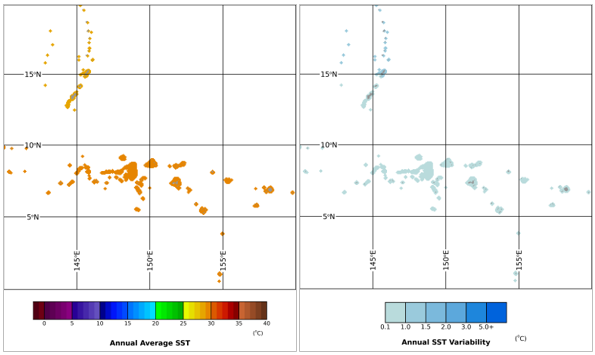 On October 9, the NOAA Coral Reef Watch (CRW) program released Version 3.1.0 of its Thermal History product suite. Through this product suite, designed for coral reefs and adjacent waters worldwide, NOAA CRW is providing valuable tools for enhanced coral reef management in a warming world.
Accelerated climate change threatens even the best-protected and most-remote coral reef ecosystems. Reef management must incorporate how various factors (e.g., benthic structure, currents, local upwelling, connectivity, herbivore abundance, and thermal history) affect coral and reef ecosystem resilience. Research over the last decade indicates that thermal history is among the most important factors influencing coral reef resilience. 
Now spanning 1985-2019, the Version 3.1.0 Thermal History product suite is comprised of several sea surface temperature (SST) metrics that are arranged into six themes: Stress Frequency, Stress Onset, SST Variability, SST Trend, Climatology, and Annual History. The Version 3.1.0 metrics are derived from CRW's Version 3.1 daily global 5km CoralTemp satellite SST data product. 
The NOAA CRW program is an initiative supported by the Earth System Science Interdisciplinary Center (ESSIC)-administered Cooperative Institute for Satellite Earth System Studies (CISESS). ESSIC/CISESS Scientists include Associate Research Scientist Dr. Gang Liu; Senior Faculty Specialist Jacqueline De La Cour; and Faculty Specialist Erick Geiger. The team also includes ESSIC/CISESS subawardees, Drs. William Skirving and Blake Spady, at ReefSense in Townsville, Australia.
To learn more about current and predicted heat stress on tropical coral reefs worldwide, please visit the NOAA CRW website.