NOAA Coral Reef Watch's satellite Bleaching Alert Area product shows high heat stress persists in the South and East China Seas, impacting coral reefs throughout the region.
As of September 7, 2022, NOAA Coral Reef Watch's (CRW) daily global 5km-resolution satellite Bleaching Alert Area (7-day maximum) product continues to show high oceanic heat stress (Alert Level 2), associated with severe coral bleaching and significant mortality, in most of the South China Sea and East China Sea – from northern Vietnam, through Taiwan, to Japan.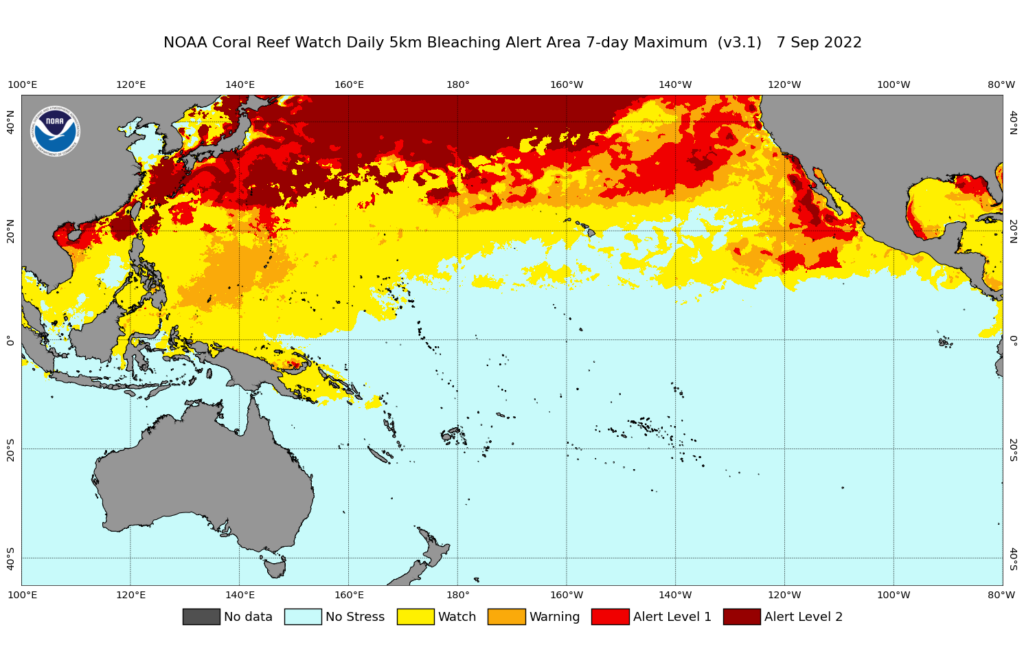 As reported on by the Taiwan News, Taipei Times, Focus Taiwan, and the International Community Radio Taipei (ICRT), among other local media outlets in Taiwan, following NOAA CRW's bleaching alerts, Taiwan's Ocean Conservation Administration (OCA) conducted surveys at 20 monitoring sites around Taiwan and off the Green and Orchid Islands. Surveys showed only sporadic coral bleaching (at the level of mild or moderate bleaching), mainly in waters shallower than two meters. However, the OCA, in collaboration with the National Museum of Marine Biology and Aquarium, is continuing to monitor local conditions and conduct surveys at 30 reef sites around Taiwan's main island and outlying islands.
Additionally, CRW has received reports from partners in Japan that severe, widespread coral bleaching is occurring off the Iriomote and Ishigaki Islands in the Yaeyama Islands of Okinawa Prefecture and around parts of Okinawa Main Island.
Finally, as reported on by Hanoi (AFP) and other news outlets, in late June 2022, following NOAA CRW's alerts of increasing coral bleaching heat stress in Vietnam, the Nha Trang Bay Management Authority closed popular scuba diving areas off Hon Mun Island, to help protect the bleached and damaged reefs there.
The NOAA Coral Reef Watch program is an initiative supported by the Earth System Science Interdisciplinary Center (ESSIC)-administered Cooperative Institute for Satellite Earth System Studies (CISESS). ESSIC/CISESS Scientists include Senior Faculty Specialist, Jacqueline De La Cour and Faculty Specialist, Erick Geiger. The team also includes ESSIC/CISESS subawardees, Drs. William Skirving and Blake Spady, at ReefSense in Townsville, Australia.