This month, NOAA Coral Reef Watch (CRW) completed two product development milestones, to implement an improved Four-Month Coral Bleaching Heat Stress Outlook and develop the methodology for a new, prototype Coral Reef Resilience product.
To enhance the accuracy of its well-used, weekly-updated Four-Month Coral Bleaching Outlook, CRW implemented a new component that predicts a range of potential, grid-dependent coral bleaching heat stress levels, determined by select weekly model ensemble members showing the highest past performance skill scores. (CRW staff and key collaborators are now evaluating the new component.) CRW also produced maps and charts of past performance skill scores, to understand how the Outlook skill varies among data grids, predicted times of year, prediction lead times, and ensemble probabilities. These improvements will help users more effectively prepare and prioritize resources for: (a) climate-driven marine heatwave and other heat stress events that drive coral bleaching and disease and have long-term, ecologically-significant impacts on coral reef health and function, and (b) other in-water coral reef monitoring, conservation, restoration, and resilience efforts.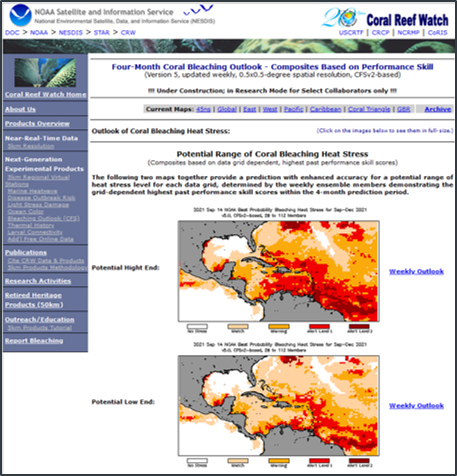 Top panel shows predicted bleaching heat stress ranges for the Caribbean, issued September 14, 2021. Lower panel shows 75th and 50th percentile values of week-of-year (x-axis) and lead-time dependent (y-axis) Heidke Skill Scores among the data grids in the Florida Keys 5km Regional Virtual Station, at the 60% ensemble probability.
CRW also developed the methodology for a prototype version 1.0 Coral Reef Resilience product based on satellite sea surface temperature (SST) data and recent scientific literature. The new methodology improves upon methods published in Mumby et al. (2011) that used metrics based on CRW's satellite-based heat stress products to characterize chronic and acute stress in coral reef areas, especially those in Marine Protected Areas. (The idea was to help identify climate change resistant reefs, likely to contain corals with heat stress hardy genetics, that could help seed neighboring reef areas.)  CRW's new methodology divides the former Mumby et al. metrics into two groups: (a) all time maxDHW: to identify "special" oceanographic regions that resist oceanic heating (Figure 2); and (b) a series of Degree Heating Week (DHW)>4 frequency metrics: to highlight reefs likely to have corals with heat stress-resistant genetics. CRW will now begin coding the prototype v1.0 global Coral Reef Resilience product.

Additionally, CRW completed four, recurring annual milestones this month — one of which included the extension, by one year, of two, existing Memoranda of Understanding for Cooperation in Research between NOAA and The University of Queensland, and NOAA and the Australian Institute of Marine Science.
The NOAA CRW program is an initiative supported by the Earth System Science Interdisciplinary Center (ESSIC)-administered Cooperative Institute for Satellite Earth System Studies (CISESS). ESSIC/CISESS Scientists include Associate Research Scientist Dr. Gang Liu; Senior Faculty Specialist Jacqueline De La Cour; and Faculty Specialist Erick Geiger. The team also includes ESSIC/CISESS subawardees, Drs. William Skirving and Blake Spady, at ReefSense in Townsville, Australia. 
For more information on CRW's ongoing product research, development, and enhancement efforts, please visit the CRW website.