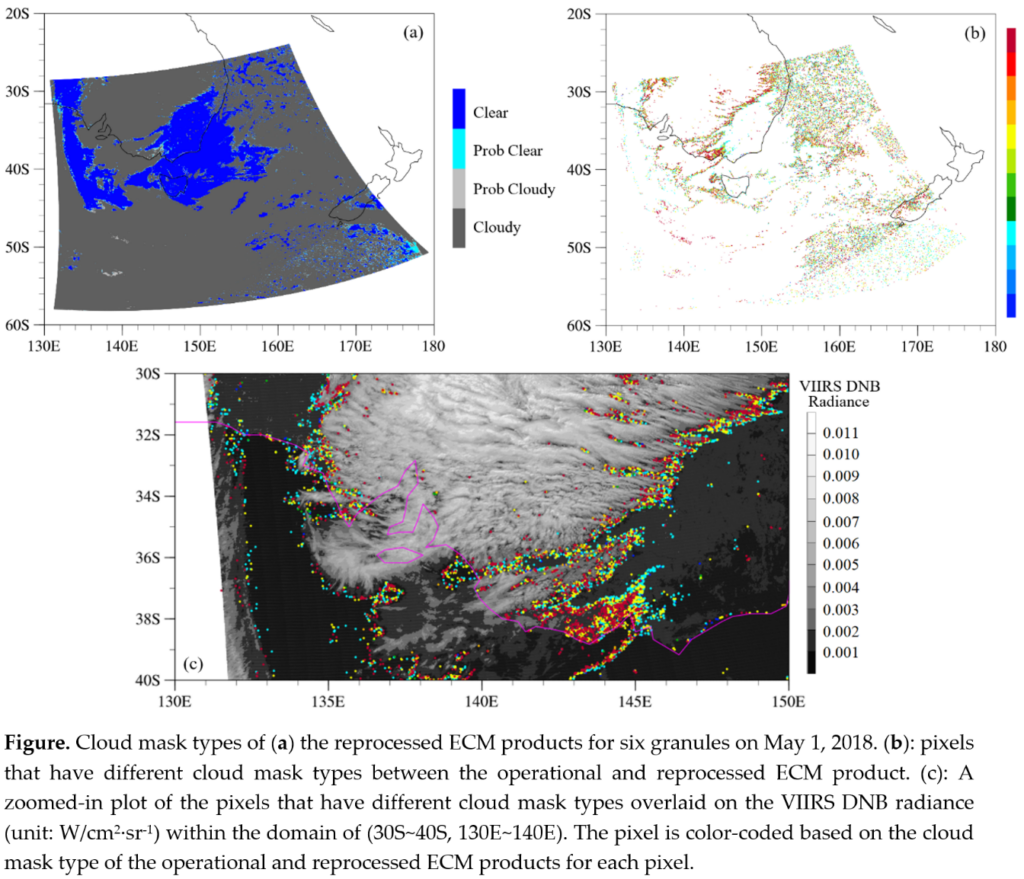 In the July 1 issue of Remote Sensing, ESSIC/CISESS Scientists Lin Lin and Bin Zhang (STAR/SMCD) and Consortium Scientist Xianjun Hao (GMU) have a new article on the reprocessed Suomi-NPP Visible/Infrared Imager Radiometer Suite (VIIRS). The article, titled "Assessment of the Reprocessed Suomi NPP VIIRS Enterprise Cloud Mask Product", documents the assessment of the operational VIIRS Enterprise Cloud Mask (ECM) with the one based on the reprocessed data. Overall, the researchers found the differences were small. Most of the discrepancies occur between neighboring types at the cloud edge as shown in the figure.
These findings help lay the foundation for the user community to understand the reprocessed ECM product. Due to the better quality of the reprocessed VIIRS SDR data that are utilized to generate the reprocessed ECM product, it is expected that the reprocessed ECM product will have better stability and consistency compared to the operational ECM products. Therefore, the reprocessed ECM product is a useful benchmark for the user community.
Lin Lin is an ESSIC/CISESS Associate Research Scientist with research interests in the calibration, intercalibration, and applications of the instruments onboard the Suomi National Polar-orbiting Partnership (SNPP), NOAA-20 and the following Joint Polar Satellite System (JPSS) satellites, reprocessing of JPSS life-cycle data, applications of machine learning techniques, and more.
Bin Zhang is an ESSIC/CISESS Assistant Research Scientist. His research interests include ocean circulation dynamics and ocean state forecasting, satellite sensor calibration/validation.

To access the article, click here: "Assessment of the Reprocessed Suomi NPP VIIRS Enterprise Cloud Mask Product".