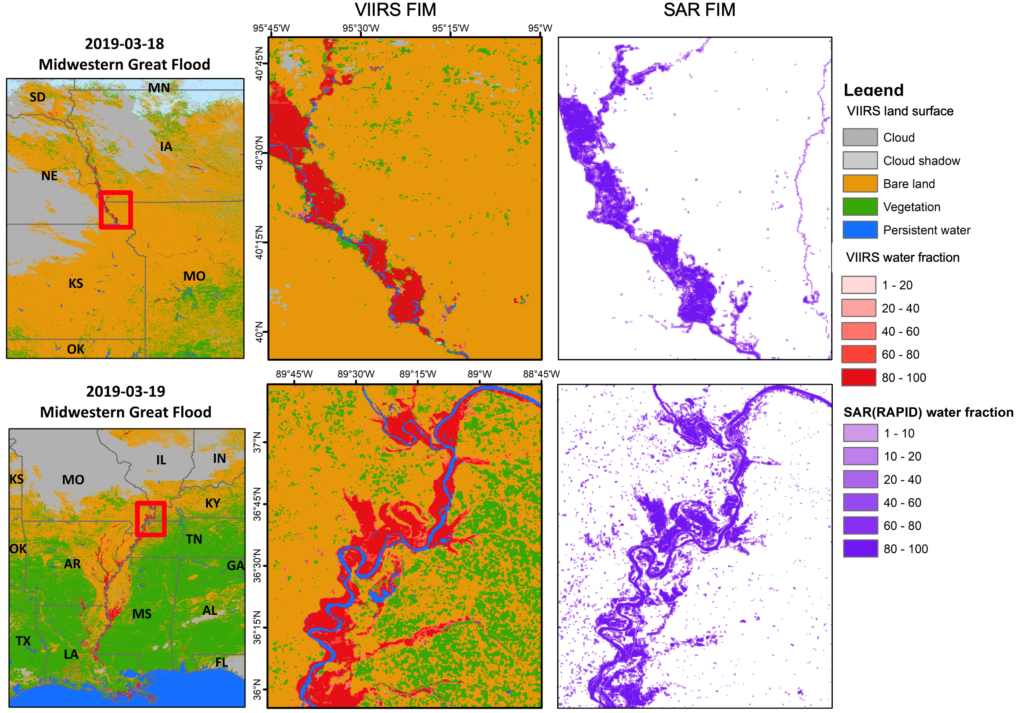 ESSIC/CISESS Scientist Qingyuan Zhang, ESSIC Associate Director Ralph Ferraro, and colleagues Drs. Xinyi Shen and Qing Yang of University of Connecticut have developed a framework to compare Visible/Infrared Imager Radiometer Suite (VIIRS) Flood Inundation Maps (FIM) with Sentinel-1 synthetic aperture radar (SAR) FIM. 
VIIRS daily FIM products provide water extent information with cloud-free observations. SAR FIM maps provide water extent information with day‐and‐night, all‐weather observing capabilities. Integrating VIIRS FIM products and current SAR FIM products has the potential to enhance the capability to accurately monitor and forecast flood inundation. As the researchers proceed with the study, they hope to discover if VIIRS FIM products and SAR FIM products are comparable under cloud-free conditions.
Zhang had worked at GSFC/NASA for 14 years before he joined ESSIC. Drs. Xinyi Shen and Qing Yang are research scientists of Department of Civil and Environmental Engineering, University of Connecticut.
Ferraro was a NOAA Physical Scientist for 12 years, and has recently been appointed as the Associate Director of ESSIC.
To access SAR FIM products, click here.