---
The PAGES Ocean2k project
By: Michael Evans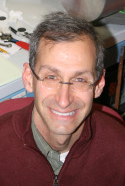 Last summer, following the International Quaternary Association quadrennial meeting in Bern, Switzerland, I found myself a guest at a meeting of the Past Global Changes (PAGES) 2000-year (2K) Network. This group is charged with evaluating patterns and mechanisms of climate change, with foci on 8 terrestrial regions. Why, I asked, wasn't the global ocean represented in the 2K network? Well, as it turned out, the PAGES Scientific Steering Committee (SSC) had asked the exact same question, and the Ocean2k project was born.
I accepted overall leadership of the project, and we planned for efficient and stimulating pursuit of specific goals. We would assemble a core/lead team of scientists with whom I had never before worked, but held in high regard. We would meet by email and internet. We would develop a synthesis paper of use to those building the paleoclimate chapter of the Intergovernmental Panel on Climate Change's Fifth Assessment Report, by July 2012. And we would use the process as an opportunity to mentor early career scientists. With the support of the PAGES international project office, we started work in October 2011 with a team of observationalists and modelers dedicated to a synthesis across all sources of paleoclimatic information.
The level of support from the paleoclimate community for this effort has been amazing. Discussions amongst the leadership team have been constructive, respectful, and thought-provoking. I have become better at finding consensus and concisely communicating results. As of this writing, over 100 volunteers are enthusiastically creating a metadatabase of publicly-archived paleodata relevant to the Ocean2k effort. Once this effort is complete, over two dozen participants will develop a multithreaded synthesis, examining the oceans by region, timescale, time window, phenomenon, using qualitative and quantitative approaches, contextualizing results given uncertainties, and comparing features to those resolved in climate modeling simulations. Will we pull it together in time? Will we see common themes and robust features? I suppose we will see – come July 2012.