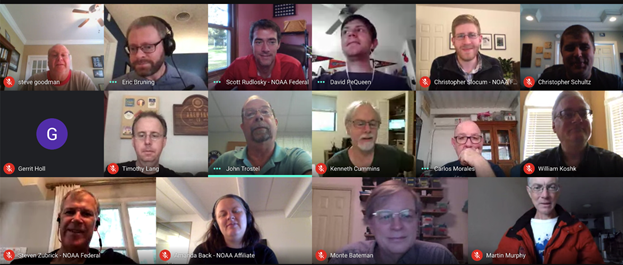 The ESSIC/CISESS lightning team, composed of Scott Rudlosky, Mason Quick, Jonathan Smith, and Daile Zhang, organized and presented at the 2020 annual Geostationary Lightning Mapper (GLM) Science Meeting earlier this month.
The GLM is a near-infrared optical transient detector onboard the NOAA GOES-16 and -17 Satellites. It maps lightning strikes across the Western Hemisphere using optical lightning data in conjunction with ground-based networks that detect radio waves.
The team presented on various topics related to the GLM. Rudlosky presented "Initial GLM Climatology and Performance Assessment" and "GLM Data Query Tool." Zhang presented "Downscaling of GLM Lightning Observations Using ISS-LIS Data." Smith presented "Status of GLM Gridded Products."
Although it was the first time that the meeting went virtual, it was very successful and well attended with about 80 participants for each session.
Rudlosky is a SCSB/STAR/NESDIS/NOAA visiting associate research scientist working in collaboration with ESSIC/CISESS. Quick is an ESSIC/CISESS visiting assistant research scientist and conducts research in atmospheric physics with a focus on atmospheric electricity using a variety of remote sensing tools and data products. Smith is also an ESSIC/CISESS visiting assistant research scientist who directly supports the integration of GLM gridded products to National Weather Service (NWS) operations. Zhang is a postdoctoral associate at ESSIC, focusing on evaluating and assessing space-based lightning sensors such as the GLM.